IPAF smooth operator challenge
By Euan Youdale18 May 2015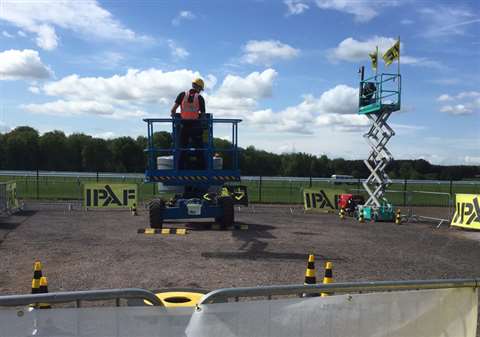 Valid PAL Card holders have been invited to participate in IPAF's Smooth Operator Skills Challenge to demonstrate their level of ability in operating MEWPs and to illustrate the importance of training for safe and effective use of machinery.
A water-filled bucket topped with 10 floating ping-pong balls was attached beneath the boom's basket for the challenge at the UK's Vertikal Days exhibition. The challenge to participants was to manoeuvre the machine over a course in the IPAF's demonstration area whilst retaining as much water and as many ping-pong balls in the bucket as possible.
The course included driving the machine over a set of timbers/humps and parking the machine in between two cones before slewing the basket around to ring an elevated bell for ten points. Reversing to the original starting position, participants could aim to rest the bucket in the centre of a target for 25 points, 15 points for the middle circle and ten points for the outer circle.
Five points were deducted for every 250ml of water lost from the bucket and a point lost for every missing ping-pong ball. A maximum of 45 points was possible. Although the activity for each participant was timed, emphaisis was on smooth operation, not speed; times were only referred to if two operators scored the same number of points.
The challenge was made harder by the pressure of spectators oohing and ahhing, jeering colleagues, and an IPAF commentator talking through pitfalls and progress and of the participant's efforts. Windy conditions on Thursday added more difficulty to the challenge.
Each day the following prizes were awarded to the top three point scorers:
1st Prize: entry ticket to IPAF's UK Member Event (15 October 15) at The Majestic Hotel, Harrogate, including one night's accommodation and a three-course dinner, and either a crate of beer or six bottles of wine
2nd Prize: IPAF high-viz jacket, and either a crate of beer and six bottles of wine
3rd Prize: IPAF high-viz Jacket and an IPAF cap
Each participant received a free IPAF t-shirt.
Winners
Wednesday 13 May
1st Prize: Andrew Howell - 35 points
2nd Prize: Jason Spendlove - 30 points
3rd Prize: Andrew Waite - 30 points
Thursday 14 May
1st Prize: Donal O'Reilly - 35 points
2nd Prize: Lathan Pritchard - 30 points
3rd Prize: Alex Ward - 29 points