Isozaki stairway
By Euan Youdale25 August 2015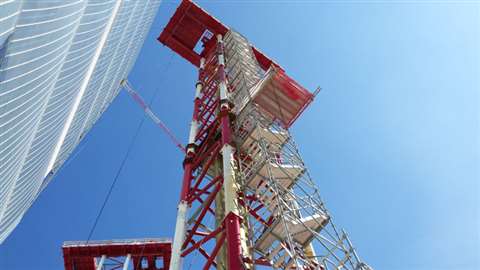 Pilosio fitted staircase towers, with heights up to 61 m, to provide access during the construction of Italy's tallest building.
The Isozaki tower is based at CityLife, a residential, commercial and business district under construction a short distance from the old city centre of Milan, Italy, and is one of the largest redevelopment projects in Europe. It is designed by Japanese architect Arata Isozaki.
The 202 m high, 50-storey tower, now the tallest building in Italy, is built using a slimline modular system, which can be repeated indefinitely, with a core placed between two convex glass facades and panoramic elevators on the outside of the building. The design also includes four external buttresses protecting the skyscraper from wind vibration.
The tower is characterized by two pairs of concrete struts connected to the core at approximately one quarter of the total height. The struts' function is oscillation damping and reducing the stress load on the base of the tower. On the north/west facade, the pair of struts have an overall length of 60 m, while those on the south/east facade amount to 40m, with a total weight of 450 tonnes.
The construction company Colombo Costruzioni, based in Lecco, Italy is overseeing the project, while M.B.M., based in Verona, has been tasked with designing, producing and mounting the struts.
For assembly and placement, the struts were divided into sections and lowered and welded into customised metal towers. Pilosio fitted its MP towers to these structures to provide stair access at the highest point where the loading platforms and main winch were placed. Four walkways at different, predetermined heights enabled operators to then carry out the delicate process of welding the strut sections together.
To speed up the assembly of the MP towers, two of which were 61.56 m high and two 44.60 m, company Euroedile vertically assembled two staircases before mounting all the other sections with the use of a crane. The tower was then anchored to the structure.