Its show time
By Lindsay Gale10 April 2008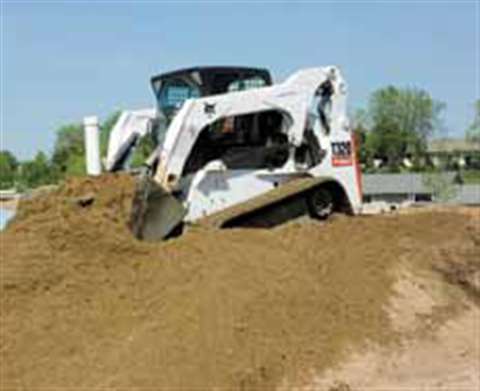 With visitor numbers confidently predicted to be in excess of 125,000, this year's ConExpo will be the largest trade show of the year. In total, 2.28 million net ft2(212,024 m2) of exhibition space will be occupied almost 2,000 exhibitors.
Of course, many of these, while of interest, may not have great direct relevance for the demolition and C&D recycling sectors. As a result, the information in this guide is restricted to that is of direct relevance to the two sectors. As many of the exhibitors as possible have been contacted for information, but as is often the case, many of the companies are being guarded about what will be on show that is new.
As a result, D&Ri plans to include a review of the show in the next issue that hopefully will pick up the major new launches at ConExpo that are not included in this guide.
General equipment
On the compact side, Bobcat will be launching two new machines onto the market – the T320 compact tracked loader and the V417 VersaHandler TTC telescopic handler. The T320 has a rated capacity of 1,455 kg (3,201 lb) and a lift height of 3.3 m (10.9 ft). The V417 is the company's fourth telehandler and the first to offer the Bob-Tach attachment mounting system. It provides a lift height of 5.2 m (17 ft) and a maximum load capacity of 2.2 tonnes.
One of main draws at the Case booth will be the 1221E wheeled loader, to be launched simultaneously at Samoter 2008 in Europe and at ConExpo. With up to 7 m3 of load capacity, the 1221E will be on the market in Europe, Africa, the Middle East and North America. This wheeled loader model is the outcome of Case's recent agreement with Hyundai Heavy.
Caterpillar will naturally have a major presence at the show, spread across three separate booths. It will be showing more than 40 machines on its two equipment stands – North
Hall will be the venue for site development, road building and paving, underground utilities and quarry and aggregates operations. The Gold Lot booth will be where small and compact equipment will be found, as well as equipment offered through the Cat Rental Store. Engines will be the name of the game on Cat's stand in the South Hall.
As an example of the kind of Cat experience ConExpo will offer, on show will be three size classes of wheel loaders that will make their North American debut – the 51 kW (72 hp) 906H, the 134 kW (187 hp) 938H and at the large end of the scale, the 597 kW (833 hp) 992K.
Hitachi will be showing a ZX850LC-3 and also a Zaxis 350LC-3 on the stand it will be sharing with John Deere. New products being launched at the show are the ZX135US-3 and a ZX220W-3 with wrist attachment. Information on the John Deere presence was not available at time of going to press.
JCB is set to have its largest ever presence at ConExpo, where it will be highlighting its Midi CX backhoe loader, along with five high boom Loadall telehandlers with Tier 3 compliant engines built for the North American market and one of its new HiViz models that offer 10% improved visibility from the cab. Also on show will be Tier 3 compliant Robot skid steers, along with representative models from the company's ranges of excavators and wheel loaders.
Liebherr will have 27 machines on display, of which the R 954 C VH-HD Litronic demolition excavator will be the highlight for our sector. Weighing in at 72 tonnes, the machine has a working height of 28 m (92 ft), and features an extending undercarriage with a transport width of 2.9 m (9.5 ft) and a working width of 3.9 m (12.8 ft). The machine is equipped as standard with the Liebherr Tool Control and Liebherr Demolition Control System that automatically ensures safe tool use at height.
Other machines on show include seven other excavators, five wheel loaders and a crawler loader, along with a number of cranes of various types and drilling equipment.
Manitowoc is another that will have a large footprint at the show, with 12 cranes on show, including nine new additions to its range (eight new models and two making their first US appearance). Two new Grove all-terrains, two Grove truck cranes, a Grove industrial carne, a new National boom truck, a new Potain tower crane and a Potain self erector make up the new models, while a Grove rough terrain and a Manitowoc crawler crane will be making their US debuts.
ConExpo is also going to be a big show for Volvo, with a number of first-timers for the US marketplace. These include the ECR235C and the ECR305C. Of particular note for the demolition industry will be the recently launched EC460C demolition, surrounded by Volvo branded hammers.
Another first will be the EW210C 21 tonne wheeled excavator, on show for the first time, targeted at addressing the need for versatility in the work environment and also North American requests for bigger machines.
This is just a snapshot, based on information available at the time of going to press, but you can be sure that thee will be plenty more to see from the likes of New Holland, John Deere et al.
Crushing and screening
Given the growing popularity of mobile crushing and screening equipment in the demolition and recycling sectors, as well as in quarrying, it comes as little surprise that there will be a great deal new to see on the booths of the many companies active in this sector that are exhibiting at ConExpo.
Construction Equipment Corp (CEC) out of Tualatin, Oregon, will be exhibiting its range of mobile crushers. The company produces a full line up of mobile cone, jaw impact and recycling machines, along with standalone crushers, as well as screening systems.
Now members of the Sandvik group of companies, both Extec and Fintec will have new models receiving their official US launches.
In Extec's case, the S-7 triple deck tracked screen is the machine to see. With a transport weight of 38.2 tonnes (85,142 lb), the S-7 boasts an additional side conveyor and a large feed hopper with an optional double deck vibrating grid and a set of extended conveyors.
Extec will also have the latest version of its best selling jaw crusher on show, the C-12+ with an operating weight of 46.38 tonnes, designed for quarries, demolition and recycling applications.
Fintec's US debutante will be its 1440 tracked impact crusher. Weighing in at 49.8 tonnes (109,790 lb), the machine features a two deck pre-screen, and can deliver high outputs with a wide range of materials including granite slate, limestone, brick and asphalt, says the company.
The 1440 will be joined on the booth by the 1107 tracked jaw crusher and the 542 mobile screen.
US manufacturer Grasan will be highlighting its approach of designing custom machines to suit specific applications or customer requirements, rather than displaying stand-alone products. Of particular note will be the presentation of a line of large, track mounted primary crushing plants that have been developed to allow Grasan to follow this approach in applications where the requirement is for high levels of aggregate production.
Industry giant Metso Minerals will be hosting a global launch for a new jaw crusher at ConExpo, the Lokotrack LT106. It weighs in at 45,000 kg (99,200 lb), is powered by a Cat C-9 engine developing 224 kW (300 hp) and replaces the LT105. Also available is a sister machine, the LT106S, which features a single deck detachable screen module that allows the production of two aggregate grades in a single stage pass. Also on show will be the new LT116 50,000 kg (110,000 lb) jaw crusher. It too is available with a detachable screen module as the LT116S.
Italian manufacturer Officine Meccaniche di Ponzano Veneto SpA will be showing an uprated machine never before seen anywhere in the world. The Apollo Plus jaw crusher is based on previous Apollo model but features an uprated engine. It also boasts a larger feed opening, upgraded electronics, hydraulics and mechanical system, and what the company claims is the heaviest and most robust jaw in its class.
ConExpo will be a major show for US industry leader Telsmith, w the introduction of a number of ne products. Of particular interest w be the Quarry-Trax Model TJ3528 that features a large gape and a 1.5 m (58 in) wide crushing chamber. Telsmith claims unique features for the machine – hydraulic adjustment, hydraulic tramp iron relief and hydraulic chamber clearing that reduce operating costs and allow an operator to safely clear the crusher very quickly.
Also on show will be the Telsmith Vibro-King TL screen designed to replace the existing Vibro-King and Specmaker screen lines. The company says that the new unit will provide longer service life, reduced maintenance and lower operating costs.
Terex Finlay, which celebrates its 50th year in business in 2008, will have the recently launched J-1160 jaw crusher on show that, according to the company "offers maximised productivity with an advanced control/monitoring system that facilitates automatic start/stop sequences."
It is suited to recycling/demolition as well as quarry applications. A Cat C-9 engine delivering 224 kW (300 hp) with a hydrostatic transmission powers the machine. It also features a reverse functio which, should a blockage occur, assists in clearing the chamber.
Meanwhile, Terex Pegson has develope a new primary tracked jaw range crushe capable of "outstanding productivity". The Terex Pegson X400 is available in both hydraulic adjust Terex Pegson XA400 and hydraulic release Terex Pegson XR400 versions and is ideal for quarrying and recycling applications, says the company.
The XA400 has a highly aggressive crushing action with hydraulic crusher setting adjustment while the XR400 withhydraulic release has been specifically designed to alleviate problems associated with crusher overload, which can be encountered when tramp metal enters the crushing process.
Of course, there will be plenty of other mobile crushing and screening systems to see, with models from a number of other leading manufacturers on show who at the time of going to press have been unable/unwilling to supply information relating to their exhibits. These include Astec, Kleeman and Eagle Crushers.
And now to compact crushing. austrian compact specialist Powercrusher will be presenting its flagship impact crusher, the PC 1375 I (recipient of a Red Dot design award), along with a HCS 6015 mobile screen The PC 1375 has a capacity of up to 300 tonnes/hour and is quick to set up once on site, says the company. The HCS 6015 has a 6 m (20 ft) x 1.5 m (5 ft) double screen deck and swivel side conveyors.
Fellow Austrian company Rubble Master will be giving its RM100 tracked crusher its official US launch. The RM100 is a tracked impact crusher with a maximum capacity of 220 tonnes/hour. Weighing in at 28,000 kg (61,600 lb). It joins Rubble Master's smaller predecessors, the RM60, RM70 and RM80. According to the company, the RM100, like its smaller siblings, can be used in any environment to process any material into a fine-grain end product.
Keestrack and Komplet Italia will also be exhibiting their ranges of compact mobile crushers at the show.
Last but not least in the crushing arena, there are a number of suppliers of excavator crushing buckst attachments who will be present at the show, Including Meccanica Breganzese with its four model BF range, Crush-All and Allu.
Demolition attachments
Allied Gator will have an extensive line-up of models from its 11 model MT range of multi-tools weighing from 364 kg (800 lb) to 23,637 kg (52,000 lb) with their Quick change jaw sets that allow them to switch from steel processing to concrete reduction quickly and easily.
Korean supplier All-Kor will be presenting its Multi Vibro vibrating demolition ripper designed for use on carriers weighing from 23 to 38 tonnes with an operating weight of 2,200 kg (4,840 lb) along with its range of breakers and other demolition tools.
ConExpo will see the American launch of Atlas Copco's HB 10000 breaker launched at last year's Bauma in Munich that has already been covered by D&Ri. In addition, a new combi cutter will be on display in the shape of the CC 2500 model that completes the company's line. With a service weight of 2,580 kg (5,676 lb) the CC 2500 is designed for use on 22-35 tonne carriers and joins the CC 1700 for 15-25 tonne carriers and the CC 3300 for 30 to 50 tonne machines.
US supplier Leading Edge Attachments will be presenting an all-new version 120 metric tonne class size (180,000-300,000 lb) Hi-Cap Multi-Ripper Bucket for ripping and digging applications. Suitable for use on the largest excavators, the wider versions of the bucket have five shanks and it is made from 3 in (76 mm) Hardox 400 steel.
Of course, there will be plenty of different models of breakers scattered around the show ground from a wide range of suppliers too numerous to mention, and specialist demolition attachments from the likes of Stanley LaBounty, Genesis, Mantovanibenne, Trevi Benne and VTN Europe (see Equipment page 51) to name but a few.