Ixolift expands push around market
By Euan Youdale26 May 2017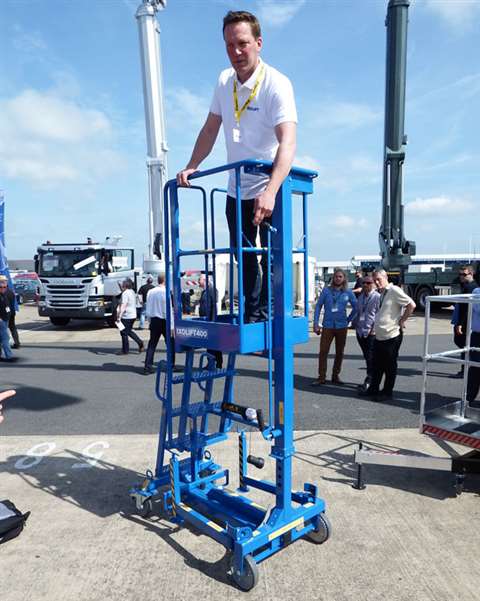 Finnish manufacturer Ixolift has launched a lightweight push around platform with a working height of up to 4m.
Powered by an internal gas-spring, the Ixolift has been classified as an adjustable work platform on the Nordic market, meaning it does not require a license to operate. Its compact size also makes it easy to move through doorways and into elevators.
The Ixolift 400 has been designed to fill a gap in the market for an alternative to ladders and scaffolds, says an Ixolift spokesperson. "Impact injuries caused by falls are by far the most common type of workplace-related health & safety incident. Most of these falls take place when working at or just above head height, typically from ladders. Without safety rails and stabilizers, ladders aren't always a safe choice. But they're still widely used, as scaffolds take time to build, and MEWPs can be cumbersome and may require specialist knowledge to operate.
A quick-release lever activates the gas spring which brings the basket up to full height. The operator can then climb the attached ladder to the basket, before release the spring in the same way to bring the basket back down to its push-around position.
"The largest construction companies in Finland came together some time ago and drew up shared safety guidelines that recommend extra hand rails and additional stabilising support for equipment used for working at heights of over 2m," said Jukka Pönkänen industrial-equipment business manager for Finland-based rental company Ramirent.
"There is also an ergonomic question when working at these heights, as you typically need to tense your body for stability and stretch up or crouch down – all of which places strain on the back and legs," Mr Pönkänen added, "So we were looking for an alternative to ladders that would be safe and comfortable for our rental customers, but just as easy to use and move around."
Ramirent took Ixolift into its fleet mid-2016. Twelve months later the company has Ixolifts in use at multiple locations around the country, with customers using it for everything from the construction of a new power station to everyday maintenance in hospitals and factories.
Other key features include anti-surfing brakes that automatically lock the wheels when the basket is raised; extra counterweight in the chassis that makes the platform safe for use outdoors in windy environments; and the unique gas-spring solution for raising the basket that eliminates the need for electrics or hydraulic oil.
"We have tried to streamline Ixolift as much as possible to make the best solution for the mass market," said company CEO Johan Friis. "There is a global need for this product, as it really fits in everywhere."