Jalo & Jalo expands truck mount fleet
By Leila Steed19 March 2019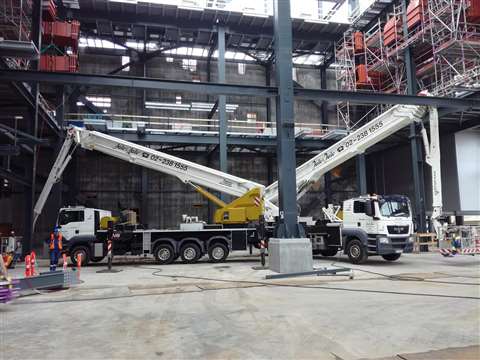 Rental company Jalo & Jalo has increased its fleet of Bronto Skylifts. The Finland-based company, which already operates around 50 units, has added 10 new units to its fleet ahead of opening its first international office.
The company purchased the truck mount models from Finland-based Bronto Skylift. Five S35EM's and three S47XR's were delivered along with an S500XDT-J and an S70XR model. The new hydraulic platforms will allow the company to tackle an increasingly wide range of worksites. "Worksites are not always straight forward. We have basic material handling gear with every unit to be able to serve the customer in all situations," said Sami Jalo, CEO of Jalo & Jalo.
As part of its expansion plans the company has also sold off its units produced by other truck mount manufacturers. Its reliance on the brand has been called a "strategic partnership" by Bronto Skylift access sales director, Antti Souniemi. The hydraulic platform manufacturer also said that Jalo & Jalo were a significant influence in the designing of the S35EM model.
Over the past five years Jalo & Jalo has almost tripled in size. The company bought Finland-based platform business Havator in 2015 and in 2017 Jalo & Jalo made a business deal with competitor Janneniska, which allowed each company to focus exclusively on different ends of the market.
Speaking of their current expansion plans, Jalo said, "Due to high demand we have taken many new operators, renewed and increased the fleet and now are ready to open our first international office in the near future".