Jaso launches largest tower
By Alex Dahm18 March 2019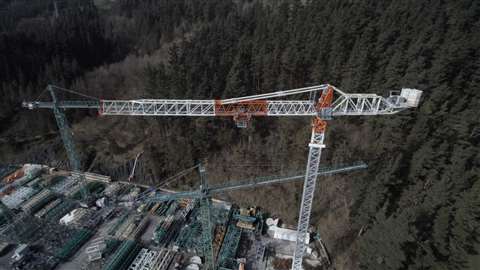 Spanish manufacturer Jaso is launching its largest crane to date, the J1400 top slewing tower. The 64 tonne capacity low top J1400 can have a jib up to 80 m. It has a tip load of 10.5 tonnes at 80 m. Its shortest boom is 25 metres. Capacity is still 36 tonnes at a 40 metre radius. Increasing the hook height to 150 metres only reduces capacity by 1.4 tonnes to 34.6 tonnes, even though there is all that extra weight of the steel hoist rope.
While it is suitable for dam construction and similar heavy civils projects, a particular target application for this new model is the Prefabricated Prefinished Volumetric Construction (PPVC) housing construction programme from Singapore Government's Building and Construction Authority. Buildings are assembled using a large crane to stack freestanding modules, complete with wall and floor finishes, and so on, to form a multi-storey tower.
"This crane is specifically designed to easily lift PPVC loads of 35 to 40 tonnes to a height of 150 metres without a loss of load chart due to the weight of the 28 mm diameter wire hoist rope," said Dick Huitema, Jaso area manager.
Minimal swing radius is an important requirement. With this in mind four modular counter jib configurations are possible with the new models. The counter jib radius ranges from 18.1 to 29 metres. The option of steel counter weight slabs allows the radius to be reduced by a further 1.8 metres. The tower system is in 5.6 metre-long sections at 2.16 x 2.16 metres.
Transport dimensions are an important feature. A crane with a hook height up to 56.5 metres and the full 80 metre boom can travel in standard 40-foot ISO shipping containers with no special open top or flat racks needed. A folding counter jib design facilitates this, Jaso said. Maximum component weight is around 10 tonnes, Jaso said.
For extra safety a secondary clamp-type brake is available on hoist and trolley.
Jaso will be at the Bauma exhibition in Munich, Germany, from 8 to 14 April 2019. Updates on what's new at the show see: https://www.khl.com/magazines/international-cranes-and-specialized-transport and: https://www.bauma.de