JCB expands electric powerpack range
By Catrin Jones10 May 2023
JCB is expanding its electric powerpack range with the addition of three larger 400V and three-phase output models.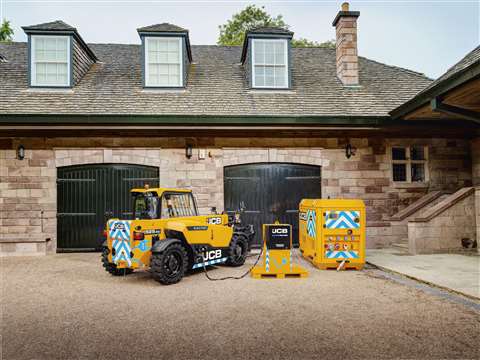 The UK-based company says that the battery powerpacks allow users to reduce their dependence on diesel-powered generators when electrical demand is low. 
The three new power packs, 3.50QE, 3.75QE and 3.100QE, have an output voltage of 400V, in addition to a total storage capacity of 46kWh, 69kWh and 104kWh respectively. With a continuous output of 36kW at 25°C, each unit offers multiple socket connections, RCD protection and input and output busbars, for ultimate connection flexibility.
Powerpacks also deliver a green solution for charging JCB E-Tech electric machinery, such as mini excavators, compact telescopic handlers and site dumpers. The powerpack can be charged with green electricity and then transported to site, to recharge machines as required. This allows the use of environmentally-friendly electric machinery in remote locations without a site supply of mains electricity.
The powerpacks are JCB LiveLink enabled, providing remote monitoring and ensuring that power is available when and where it is required. 
Each JCB electric powerpack has no fluids, no filters and no routine service requirements, which JCB says ensures low running costs and maximum availability.