JCB launches Hydradig
By Joe Malone17 March 2016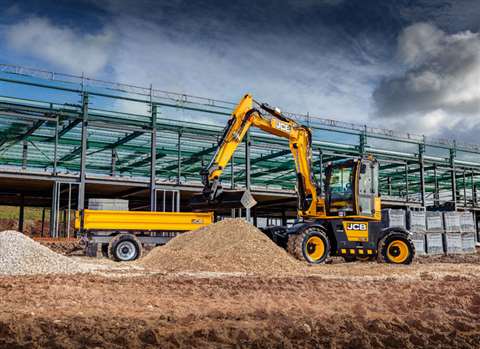 UK-based JCB has launched a new compact wheeled excavator, which will be called the Hydradig.
Hydradig is described as a digging, lifting, loading and tool-carrying machine for urban construction, highway maintenance and municipal operations.
The company said it listened to its customers' needs, and ensured that Hydradig would deliver on five key areas – visibility, stability, mobility, manoeuvrability and serviceability.
Operators have a 360° view from the cab, with visibility right down to each of its four wheels. The machine's stability comes as a result of its low centre of gravity, which is said to allow stable lifting and faster travel speeds. The Hydradig can reach speeds of 40km/h when traveling between job sites, while an all-wheel steer gives it urban usability.
Hydradig can also be serviced from ground level, as the company said it wanted to maximise the safety of operators when servicing the machine.
Lord Bamford, chairman, said, "Our team covered a wide range of disciplines and did a tremendous job in analysing what customers needed. We then handed the project to a group of innovators to come up with a solution that defied convention and they did a great job in translating the concept and all the ideas generated into a truly great machine.
"Hydradig will transform the industry and I am certain customers will quickly appreciate its benefits."
Tim Burnhope, chief innovation and growth officer, said, "Customers told us that they need a single machine solution delivering unrivalled visibility, stability, manoeuvrability, mobility and serviceability. We knew the answer was to innovate, challenge the status quo and give customers solutions they never thought possible.
"With the JCB Hydradig we've succeeded in delivering against all five customer requirements in the 10-tonne sector."
JCB's Hydradig will be on show at Bauma, Munich, in April.
Meanwhile, JCB also launched new 4- to 6-tonne midi excavators, and a new contractor specification for its 8018 mini excavator. It has also upgraded its mid-range wheeled loader range, passing on the features from its 457 wheeled loading shovel to the 427 and 437 models, along with the smaller 411 and 417 loaders.
The company has also added a new 9-tonne site dumper with a swivel skip, while JCB Attachments has doubled the number of hydraulic breakers designed to work with its excavators, backhoe loaders and compact machinery lines, with the launch of the contractor hammer range.
There has also been an update to its JZ140 reduced tailswing excavator, as well as adding a fourth model to its HiViz telescopic handler range.
All of JCB's new launches and updated machines will be on show at Bauma.