JCB shows Tier 4i telehandler at The Rental Show
By Lindsey Anderson14 February 2013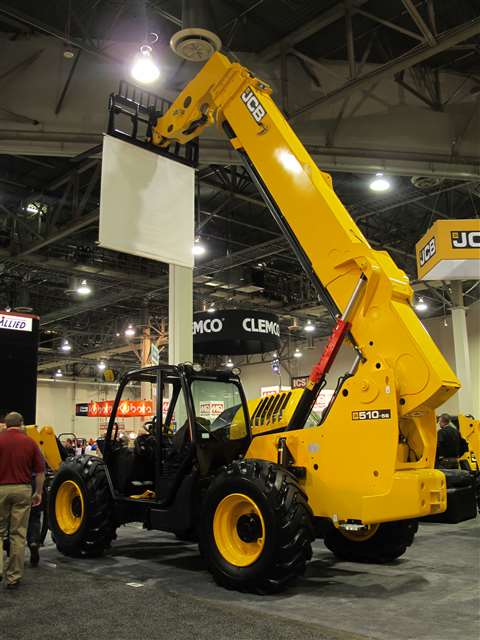 JCB used The Rental Show, Feb. 11-13 in Las Vegas, to display its 510-56 Loadall telehandler with a Tier 4i engine for the first time in North America.
JCB's Ecomax engine meets the stringent Tier 4 interim emissions legislation without the use of diesel particulate filter (DPF) or after-treatment.
The 74hp engine produces 6 percent more torque and 5 percent more power at low revs than the previous Tier 3 engine resulting in comparative performance with significantly reduced fuel consumption.
The JCB Ecomax engine will be available in two power ratings on the company's lift and place range - 74hp and 109hp.
The larger units in the range - the 509-42, 510-56 (which was on display at The Rental Show) and 512-56 - are all powered with the 109hp engine. Customers taking these machines will see an average 15 percent increase in torque and 10 percent boost to low rev power.
According to Jim Blower, product marketing manager at JCB, the company met the legislation through the use of "innovative in-cylinder technologies (patent pending) resulting in a cleaner, more efficient combustion process. This has eliminated the need for any external exhaust after-treatment meaning no diesel particulate filter (DPF) or additives such as Ad-Blue."
JCB Ecomax engines can run on standard engine oils, unlike engines with after treatment solutions, which require a more expensive CJ4 oil to function correctly.
"The no-after treatment approach also allows for a recalibration option, which makes it possible for JCB dealers to recalibrate the Ecomax engine to lower injection pressures and turn off the exhaust gas regeneration (EGR) function, without any hardware changes," Blower said. "In effect, this recalibration takes the engine out of the EPA emissions tier system, and opens it up for export to non-legislated countries that only offer lower quality, higher sulphur content fuels. This maximizes the residual value of the machine for customers, without sacrificing the Ecomax advances."
No DPF and after-treatment also means that the dimensions of the engine and its space claim on the machine are unchanged, according to Blower. This removes the need for any increase in chassis length or hood size maintaining the machines' excellent manoeuvrability and visibility.
JCB plans to launch a 56-foot telehandler with more capacity in the second quarter of 2013, Blower said.