Jekko and Fassi collaborate on new model
By Christian Shelton03 September 2018
Italian mini-crane manufacturer Jekko is following its JF545 articulated mini crawler crane with what it says is a new, better performing, lighter model: the JF365.
According to Jekko, the crane was developed in partnership with Italian loader crane manufacturer Fassi and will be unveiled on the Fassi stand (represented by the dealer Nordkran) at the IAA Commercial Vehicles show in Hannover, Germany, 20 to 27 September.
The crane has a maximum lifting capacity of 11.5 tonnes. It has a maximum height (with the jib) of 29 metres, at which its capacity is 0.55 tonnes, and a maximum outreach (with the jib) of 26.5 m, at which its capacity is 0.365 tonnes.
Jekko said the new crane is able to offer better performance due to the absence of a counterweight. The reduced weight and dimensions make the JF365 suitable for working in job sites with restricted space, crowded town centres, in the industrial sector, and when lifting next to walls, as rotation is confined to the area of the machine.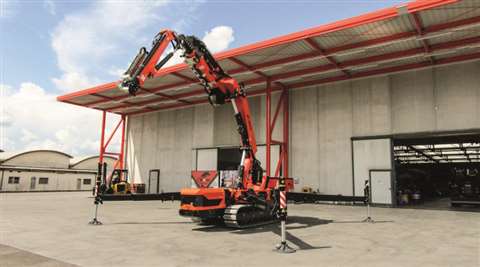 Jekko and Fassi partnered to create the JF365
The JF365 has a fixed base with a load capacity of three tonnes. Like the JF545, it has a proportional radio controller, hydraulic activation for accessories, stability control, and a smaller and lighter jib which allows for the installation of a platform on the main arm.
The JF365 can work either horizontally or vertically with the use of either the hook or the winch. It is also possible to use it with a manipulator for lifting sheets of glass, and either a three-person hydraulic platform used with dual articulation or a two-person basket with the jib for heights of up to 29 metres.
The crane is controlled via radio control. It comes with both a 55 kW Kubota diesel engine, and a 13 kW three-phase electric motor. Jekko says that it is easy to switch between the two types of engine.
"Following the success of the JF545, we decided to maintain the same format and the same configuration, substituting the crane element with one of Fassi's best sellers, the F365, which operates in the same way as the 545 but without a removable counterweight, resulting in a more compact and lighter crane while offering the same performance," explained Alberto Franceschini, sales manager for Jekko.
Jekko says the JF365 will be launched in the German, Italian, Scandinavian and central European markets.