JLG introduces equipment and concepts
JLG introduced a range of new equipment at Bauma China, which took place in Shanghai last week.
One of those, is the 1330 Concept scissor. It is a compact machine, with 3.6m working height and 227kg capacity in the basket for up to two people. The unit weighs 900kg and is 1.2m x 0.76m wide and can fit in a standard elevator. There is also a 4.9m working height version, the 1530 Concept, which has all the same features but is slightly heavier at 930kg.
It is ideal for the Chinese market, Shashank Bhatia, director of engineering of scissor products at JLG, told AI, as the country requires lightweight machines that can operate in high rise constructions with low ground pressure requirements. However, the product will also be launched internationally.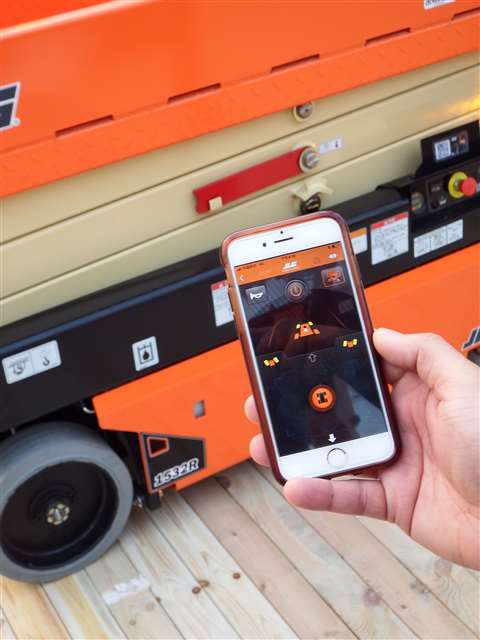 JLG has also completed its R Series scissor range with an 8m and 10m working height machine. They add to the existing 4.5, 6 and 12m working height machines. One of the models had the new patented Kicker Mechanism, which allows only one lifting cylinder to be used on a scissor lift. The kicker sits at the top of the cylinder and acts like a spring to push the rest of the scissor stack upwards as the cylinder rises. Once the kicker is used for the initial push it become redundant and the upper scissor stack rises using the existing inertia. The kicker has been shown on an ES model in the past and this was the first time it appeared on an R Series model.
Another new item is the JLG Mobile Control, which allows the operator to load and unload a machine without having to walk alongside it using its standard control box. Instead, the machine can be driven at transport height from a distance using a mobile phone app. The device uses Bluetooth, as this technology only allows one person to sign in at any one time. The app scans a QR code on the machine to identify it and the operator uses a virtual joystick to control the MEWP. JLG Mobile Control is being tested on 20 machines and will be officially launched in February.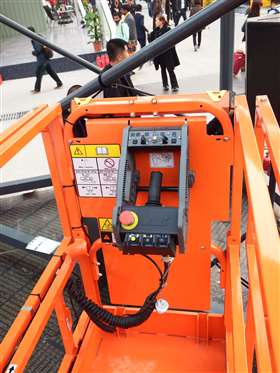 The new Enhanced Detection System (EDS) uses a set of four sonic sensors, two on the front, and two on the rear, to detect oncoming obstacles. An alert is sounded if the machine is getting close to an obstacle. If the MEWP gets too close to an obstacle, the device automatically stops the machine. The operator can then choose to override the system, if they judge the situation to be safe. The EDS will be ready in March next year.