JLG launches a number of new units at The Rental Show
By Lindsey Anderson23 February 2016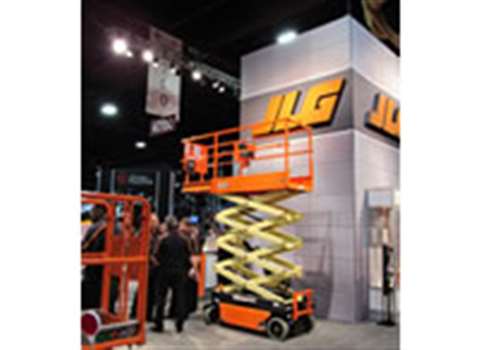 JLG used The Rental Show (Feb. 22-25 in Atlanta) to introduce a number of new products, including a new rental-focused scissor lift, three low-level lifts and a compact crawler boom.
The new 1932R electric scissor lift is geared toward the rental industry and will eventually help to phase-out the RS series of scissors, said Paul Kreutzwiser, JLG's global category director of scissors/verticals. The unit features 19 feet of platform height and 550 pounds total capacity. The 1932R also has an improved battery charger that allows a technician to program changes that optimize charge curves for conventional wet or AGM batteries using a USB port. This optimizes the charge for the battery being used, which extends battery life and improves performance, while increasing flexibility.
A simple, easy-to-maintain active pothole protection system with fewer moving parts/hydraulics and a new platform extension contribute to the lift's reliability. In addition, the machine's all-steel platform, steel component doors, and thicker rubber tires help ensure durability. Additionally, a recessed panel protects ground controls from damage during lift operation.
The new scissor offers much more ease-of-serviceability, as well as many new features, so make sure to check out the March/April issue of Access, Lift & Handlers (and Access International), to learn more.
Keep tuned to khl.com and our access magazines for updated information on the new low-level access models and crawler boom, plus more.