JLG launches electric boom range
By Euan Youdale05 February 2019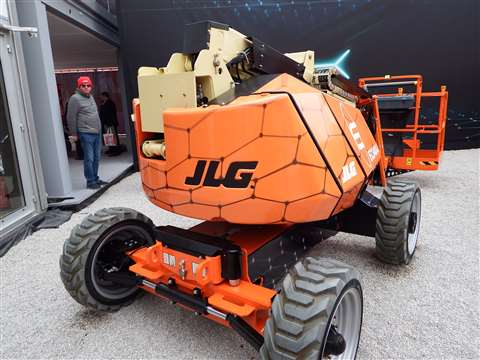 JLG will launch a range of fully electric lithium-powered construction booms at bauma.
Available in three models – 340AJ, 450AJ and 520AJ – these boom lifts offer working heights from 12m to 18m and an unrestricted platform capacity of 250kg for the 450AJ and 520AJ, and 230kg for the 340AJ. The range is equipped with Lithium batteries and 2-wheel drive as standard.
"JLG is committed to the continued development of more environmentally friendly access equipment. Working on urban job sites where noise levels and stringent emission standards apply, this range provides an alternative for conventional combustion operated equipment," says Barrie Lindsay, director of engineering in Leicester, UK.
He continued, "As a manufacturer we have improved access to alternative drive systems now that the availability of electric drive technology has matured. At this point in time we are ready to match technology with application. Also, battery development has improved throughout the years and faster and opportune charging is a reality. For JLG it is imperative there should be no performance reduction in uptime, duty cycles or terrain ability."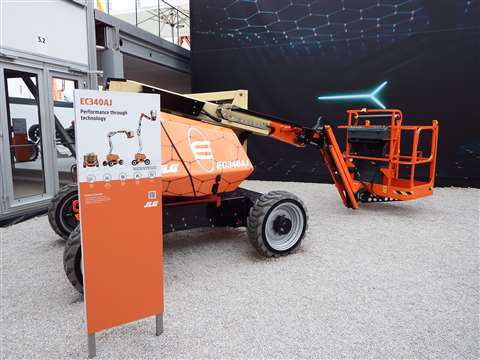 The electric 340AJ, 450AJ and 520AJ offer similar lift speeds and platform capacities as their conventional diesel counterparts. Equipped with 2-wheel drive, the range provides good terrain capability in semi-rough terrain. Maintenance and parts requirements are limited, which is a benefit of electric drive over conventional diesel, i.e. no filter replacements or engine maintenance is needed, simply because there are none.
"The market is now ready for full electric construction boom lifts. For a relatively small price difference, equipment owners benefit from improved usability as this machine can work outside, but also indoors if needed", said Jan-Willem van Wier, senior product marketing manager for JLG access equipment in EMEA.
He continued, "While these machines perform equally to conventional boom lifts, they do not produce hardly any noise or emissions. The market wants more electric solutions; which can operate in urban areas. With the availability of these electric midsize construction booms our customer's fleet can be optimized and made future proof."
The electric construction boom lifts will be on display at JLG's booth at bauma in Munich, Germany from April 8 to 14, 2019 at stand number FS.904/5.