JLG launches new telehandler
By Lindsey Anderson11 May 2009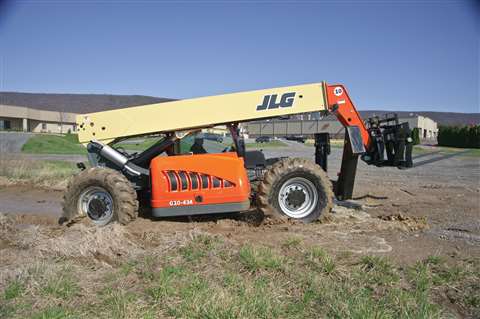 JLG Industries has unveiled a new 4545 kg (10000 lb) capacity telehandler model. The G10-43A will be used for commercial and residential construction, JLG says, despite both markets being signifcantly down. The unit features standard outriggers, a maximum capacity of 4545 kg and at its maximum reach height of 13 m (43 ft), the unit has a capacity of 3181 kg (7000 lb).
"With the additional capacity and a full range of common JLG family attachments, the new G10-43A will provide superior perforamnce in a wide variety of picking and placing applications," said Brian Boeckman, JLG product parent for telehandlers. "Operators will enjoy the same spacious, enhanced-visibility cab and comfortable operator environment available on existing G-Series telehandlers."
The G10-43A also features a wrap-around dashboard, pilot-operated joystick control and a tight turning radius. The new model brings JLG's number of construction telehandler up to nine and compct telehandler models remains at three.