JLG launches remote troubleshooting app
By Lindsey Anderson15 May 2013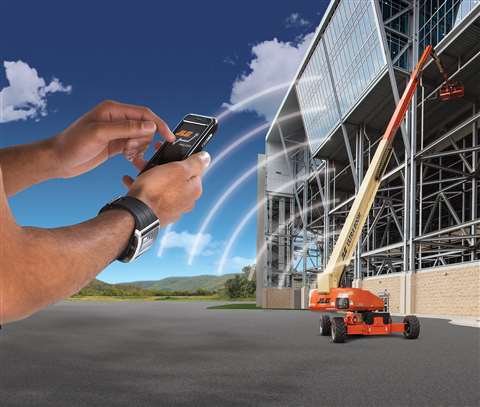 JLG Industries, Inc., has launched the Mobile Analyzer application that allows remote access for technicians to troubleshoot JLG equipment. The new tool combines a free mobile application and a wireless access module to provide technicians with remote access to program, troubleshoot, calibrate or customize JLG equipment performance.
"The JLG Mobile Analyzer is a Wi-Fi-enabled evolution of the JLG Analyzer Kit, allowing technicians to do the same analysis they are currently doing with the handheld kit," said Chris Mellott, JLG vice president, customer support and aftermarket development. "However, this new tool for Apple or Google operating system devices allows for an extended operating range of up to 150 feet."
The access module plugs into a port on JLG products that are currently compatible with the JLG Analyzer Kit, as well as all new JLG products with Advance Design Electronics (ADE), and uses the app to transmit equipment performance data to a mobile device. Although the module is interchangeable among machines, it can only be connected to one mobile device at a time. To enhance functionality, technicians can make phone calls while using the JLG Mobile Analyzer, enabling them to talk with factory support representatives as they work on machines. And, JLG said, because technicians are not limited by connections to equipment by cables attached to handheld devices, they have greater mobility around equipment.
To support the current North American introduction, the JLG Mobile Analyzer communicates in English and Spanish. Eleven additional languages will be available by the end of 2013, coinciding with the product's global distribution and providing a consistent user interface to JLG customers around the world. These languages include International French, Dutch, German, Italian, International Portuguese, Simplified Chinese, Traditional Chinese, Hindi, Russian, Japanese and Korean.
Users can download the app at no charge on mobile devices compatible with Apple iOS 5.0 and up, as well as Android API 8 and up, through Apple iTunes and Google Play stores. Regular software updates ensure compatibility to mobile devices. The app works with the JLG Mobile Wireless Access Module, which can be ordered through JLG's Online Express or a JLG representative.
"The JLG Mobile Analyzer delivers information in full description read-outs, which are easier to understand than the abbreviated scrolling text associated with the Analyzer Kit," the company said. :However, the tool operates the same as the traditional Analyzer Kit, and training is included as part of all JLG factory training. In addition, e-learning for the Mobile Analyzer is currently under development and will be available through JLG University by the end of 2013."