JLG scissors help create mural
By Lindsey Anderson02 August 2017
Working with JLG customer Best Line, JLG's vice president of North American sales, Bob Nelson, helped arrange the delivery of two JLG scissor lifts donated by Best Line and JLG to downtown Chambersburg, PA, for the purpose of installing large, tiled murals on the sides of two buildings.
The colorful murals were the brainchild of Chambersburg Area Senior High School teacher Holly Strayer. During visits to Philadelphia, Strayer admired the work of Philadelphia-based mosaic-mural artist Isaiah Zagar. Zagar's mosaics can be found on more than 200 public walls throughout Philadelphia and around the world.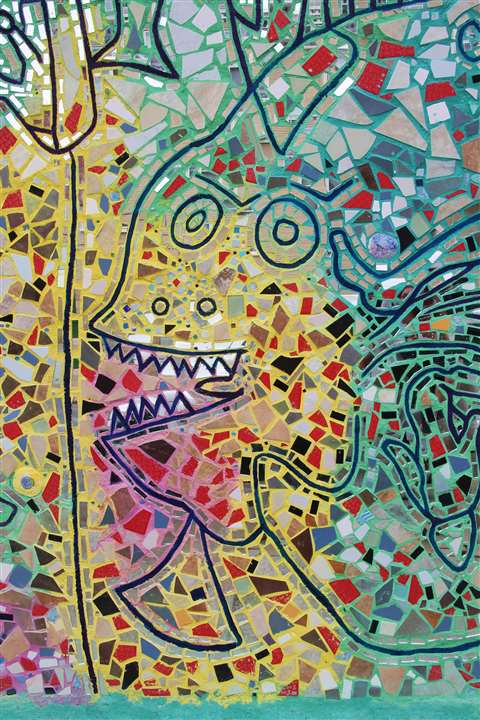 "I was immediately attracted to his work, which I thought was both inspiring and mood-changing," said Strayer. "It got me to thinking about creating murals for downtown Chambersburg. The city could use a little vitality and beauty, and what a great way to introduce art into the community and connect area students to the powerful impact art can have in their lives."
On a whim, Strayer contacted Zagar through his website and was both shocked and delighted when he responded to her inquiry with a personal phone call that evening. He explained to her what he needed in the way of fees and materials to make the project a reality.
Art teacher spearheads mural project
Strayer shared her idea with the president of the Greater Chambersburg Chamber of Commerce, who, along with Downtown Chambersburg Inc., encouraged her to move forward. With the help of a core committee of six and social media, Strayer was well on her way. She turned to Facebook to recruit materials and volunteers and set up a GoFundMe account to cover expenses.
"Our goal was to raise $20,000 to cover fees, prepare the walls, rent equipment, and purchase supplies," she said. "Much to everyone's surprise, we raised $24,000, and we did it in just one month. Everyone was so generous, including individuals, local businesses, JLG Industries, the Rotary Club, and Patriot Federal Credit union, which matched GoFundMe donations dollar for dollar up to $5,000.
"As for volunteers, we actually had to turn people away, because we had more than we needed. I hoped to engage as many people from the community as possible, which is exactly what we did."
Strayer estimates a group of between 30 and 50 people worked to create two murals, one 68 feet wide by 15 feet high on the Main Street Deli building and the other 37 feet wide by 15 feet high on the Foundry building. But before volunteers could begin their work, Zagar used a brush and black paint to create and outline the original mural designs.
JLG lifts were critical to completion of murals
The job of the volunteers was to paste mirrored tiles within the outlines Zagar created and then apply grout to complete the process. That's where the JLG scissor lifts came in.
"We could have used ladders and scaffolding," said Strayer. "But I didn't feel comfortable on either, and I didn't want others to feel uncomfortable. So, I used Facebook to put out a call for a piece of equipment that would be more stable. When Bob responded to my request, I told him we needed something that could move independently, fit on our narrow sidewalks, and give our volunteers access to the entire mural."
The solution was two JLG scissor lifts donated and delivered to the site by Best Line and JLG.
"This was a perfect application for a scissor lift," said Nelson. "The compact footprint of the unit fit the sidewalk, and the size of the platform nicely accommodated two volunteers and all the materials they needed to work on the murals. And because volunteers weren't working on a ladder, they had two hands free to paste or grout tiles without worrying about slipping. Plus, when it was time to work on a new part of the mural, the self-propelled units were easy to move."
"My gosh, we couldn't have carried on without the donation of those lifts," said Strayer,
"I'm so happy the lifts worked out as well as they did," Nelson said. "But I'm even happier that, with Best Line's help, we were able to participate in the project and make a donation that will ultimately benefit so many people who live in the Chambersburg area."