JLG updates LRT scissor series
By Lindsey Anderson20 July 2018
The company has made a number of updates and enhancements to its LRT line
JLG Industries, Inc. has updated its LRT series of rough terrain scissors.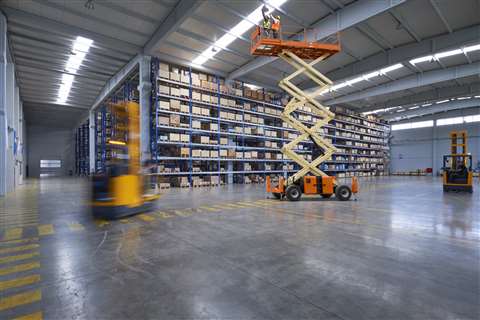 The upgraded series offers refined platform control joystick operation plus control system upgrades that provide the system with feedback to improve drive control proportionality. Left and right steer functions will now receive renewed digital inputs, as well.
"Our customers are looking for high-capacity rough terrain scissor lifts capable of carrying more employees, equipment and tools on the platform around the work site," said Rafael Nuñez, senior product manager, scissor and vertical lifts, JLG Industries. "The latest upgrades to our LRT series offer faster serviceability and added durability to help customers get the job done faster, safer and at a lower cost."
Also improved has been the leveling jack performance to deliver more accuracy and quicker leveling speeds. The leveling jack interface is enhanced by integrating a dedicated leveling function within the current lift/drive switch.
The 530LRT model will also utilize proportional lift valves for the upper and lower lift cylinders, providing a smooth, controlled proportional ascent and descent.
The LRT series of scissors also feature steel hoods and Tier 4 Final diesel engines. All machine calibrations can now be performed from the stowed position with a single click of the analyzer, and the refined elevation sensor calibration no longer requires recalibration after a software update. All software updates will also improve the customer experience with the upcoming A92.20 compliance. Additionally, all LRT models are now calibrated with the same procedure, which has been simplified to improve serviceability. This new functionality will help customers optimize machine uptime, JLG said.
Additional features include a 60-degree swing-out engine tray for enhanced access and fold-down ladder and swing-out tray for easier access to engine and hydraulics. The multifunction digital indicator (MDI) display communicates full language versus fault codes for improved serviceability and faster troubleshooting to reduce the number and duration of service calls. And operation and control layouts are the same in the entire line for ease of training and operation.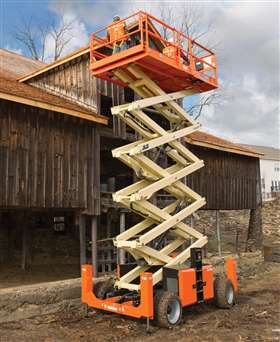 The 530LRT now has the same hood and ladder design as the 330LRT and the 430LRT and the entire series is equipped with new mufflers, lowering the sound level by 5 percent. Engine noise and vibration levels are reduced by engine isolators and improved door bumper locations. The angle tilt sensor is relocated and rerouted, so it's less prone to damage as the scissor arms move, JLG said.