JLGs arrive in Kuwait
By Euan Youdale21 May 2019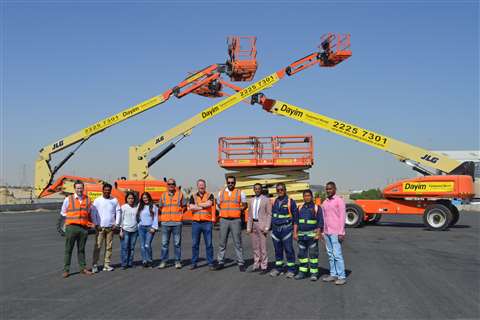 Kuwait-based Dayim Equipment Rental has taken delivery of 77 JLG boom lifts and electric scissors.
Dayim Equipment Rental was established in Kuwait in 2018 and is part of the Dayim group, which specialises in companies with high market growth potential through joint ventures, direct investment and partnerships. In turn, Dayim Equipment Rental, is a wholly owned subsidiary of Hertz Dayim Equipment Rental in Saudi Arabia
It has a young rental fleet, including access platforms, generators, air compressors, lighting towers, welding machines and material handling & earth moving equipment.
The JLG order consists of two 1850SJ, two 1500SJ, six 1350SJP and six 1250AJP models, representing the largest MEWPs in the Kuwait market.
Chris Brocklehurst, country director said, "Many of these units are now with major clients within the oil & gas field in the region, giving them the support and reassurance of quality equipment with the premium support our clients demand."
l