Job site insight
By Christian Shelton03 August 2020
In September 2020 French job site safety specialist AMCS Technologies will launch a new telematics system called IoT Lifting. The company claims IoT Lifting enables crane fleet managers to remotely monitor site productivity in real time, record crane activity, and conduct remote diagnostics.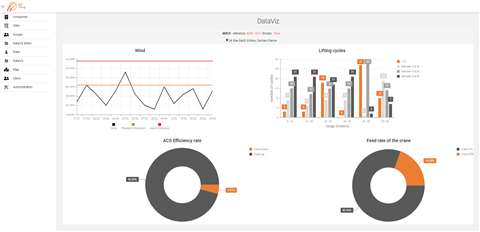 IoT Lifting is available via a web platform and as a mobile application for Android and IOS platforms. In physical form the system comes as a SIM card that is added to AMCS's DCS 61-S anti-collision system. Once installed, the system collects information about each crane, generating tailored statistics according to each site and company.
Information available to IoT Lifting users includes mapping of sites and remote viewing of screens – namely AMCS's supervisor monitoring (SUP 61) and in-cab anti-collision (DCS 61-S) screens. Information from the DCS 61-S anti-collision system, such as wind speed or slewing angle, are also available in IoT Lifting.
The system can also be used to neutralise the crane's anti-collision and prohibited zone functions within a limited radius, once the permission of the operator has been obtained.
All information can be downloaded, analysed and shared. The system, says AMCS Technologies, is more than just a tool for monitoring job site productivity and crane activity; instead, it can provide a deeper insight into a job site's productivity.