Joe Brinkmann: Opportunities and adventure
Joe Brinkmann is now in his fourth decade as a resident of South Africa, but what he calls "the adventure" shows no sign of stopping, or even slowing down. In fact, after consecutive World Demolition Awards wins in different categories during the past two years, and with a speaking slot coming up at this year's World Demolition Summit in Boston coming up, it's difficult to argue that the international stock of Jet Demolition, the company which he founded and of which he is managing director, has ever been higher.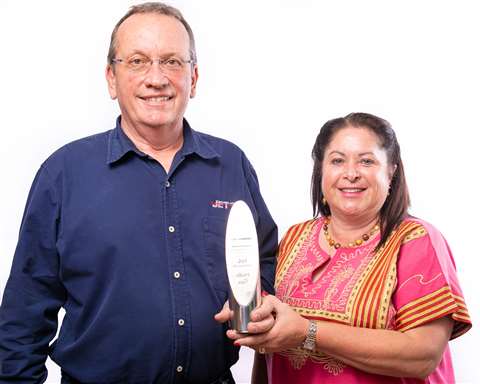 Whether Joe could have foreseen this when he left his native USA in the early 1980s is another question.
The Middlesbrough, United Kingdom-born writer Harry Pearson, when noting that explorer Captain James Cook was the most famous person in the history of his home town, could not help a humorous aside that he became famous "for getting as far away from it as was humanly possible".
Joe Brinkmann's move across the hemispheres might not have been as extreme as that, but he certainly did not make things easy for himself. South Africa did not have any reputation for demolition at all – outside of Jet one could argue it still hasn't – and politically it was a very different animal from the country we know now, with the freedom of Nelson Mandela still the best part of a decade away from changing from campaign to reality. If earning recognition from the wider demolition community was any part of his motivation, to say Joe himself had gone the long way around is an understatement.
The other irony, given what has followed since, was that Joe had no background in demolition. With an upbringing in farming and having graduated in engineering, the nearest he got to the industry in his first dozen years in South Africa was as a designer and manufacturer of explosive charges with the country's extensive mining infrastructure in mind. When one customer was looking for someone to demolish a mine as well as provide the tools, it led directly to most of what Joe and Jet have been doing ever since.
Jet Demolition - the perfect job
But even when Jet was still some distance over the horizon, Joe was already committed to his new life.
"Why do you stay? It boils down to two things – opportunity and adventure. I found the opportunity and the adventure continues every day. I didn't have to set up a demolition company, that has evolved over time. But when someone needed a mine demolished – 14,000 t of steel and concrete – I decided to go for it, and I've been very fortunate to do demolition. It's been the perfect job for me, I've been one of the luckiest people. It's a very hands-on job, and I'm a very hands-on person."
The full transition into demolition started in 1993.
"The environment at that time was of a developing country that was very much developing, pushing to a new democracy. But there was high unemployment and work was on a manual basis. It's many years since we reached a level where we could compete with the best companies in the world in terms of best practice, but back then there was a lot of hustling for jobs to get the money to buy machines, or at times to rent a machine – renting a tool to demonstrate to people and convince them that this was they way to go in terms of quality and productivity. But even today there are still sections of the market that don't accept the need for quality so we miss out on jobs, and there are other jobs that – because of the price and the requirement to do it in a certain way – we won't accept."
Heavy industry demolition projects

Joe's wife Liz, a fellow engineer who completed her Master's degree in the same year that Joe graduated, came on board a year later and with the company's domestic reputation starting to become established, opportunities in other parts of Africa followed – "we've worked from Cape Town to the Mediterranean coast", Joe recalls – and one notable excursion outside the continent as part of the United Nations' rebuilding effort following the Asian tsunami at the end of 2004.
"We will go anywhere. We have worked in a dozen countries so far, and really the places we will go to are the ones with heavy industry such as mining, oil or petrochemicals, because we have large fixed overheads.
If it is southern Africa – up to the Democratic Republic of Congo – we will send our equipment overland. On the western side we go up by boat. On the east, we will take our equipment to Durban by road, go by ship to Mombasa and then offload and go into different countries from there. We will send a project team from South Africa and establish them up there for the duration of the project.
"Ultimately we have three requirements for working in Africa. Our people must be safe, we have to get our equipment in and out, and we have to get paid. If we can get those three things right, we'll find a way of doing the job. Fortunately for us, working with large multinationals we have never had a problem getting paid."
Fast forward to the World Demolition Awards of 2017 and 2018. If its first successful entry, an explosive demolition of the 15-storey HG de Witt Building in a confined space in Pretoria, was an interesting project, the following year Jet went up a notch.
The demolition of the Unit 3 boiler at Eskom Holdings' Duvha power station was not just technically challenging, it required serious resource investment as well. The maximum workforce on the contract at peak was 145 people, or around half of Jet's total strength. It wasn't the sort of job to be undertaken lightly.
"It was a matter of circumstances. The project presented itself, and it was hugely exciting and demanding. We took the job and we had no option but to commit those resources. It was a major consideration, but the project was too enticing to pass up.
"Our attitude to our employees is that without them we have nothing, and it's very important to us to get the right people, develop them, train them and go on from there. You can't possibly have this kind of business in the developing world unless you really look after your people. We keep our full time staff during the different economic cycles, which in a downturn just makes it that much worse because there's not so much work around and you're still paying extra wages, but when a project comes to the table you can jump on it.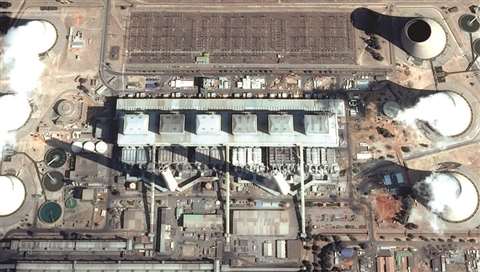 "We often spend quite large amounts on development and direct training. In terms of wider governance issues, that is where my wife Liz heads everything. Her outlook is very important, especially in developing environments when major companies look at us for work and do a detailed study on us."
The demolition industry and the skills shortage
With demolition facing a skills shortage that extends far beyond the shores of South Africa, this approach is another investment for the longer term.
"I think the skills shortage is a worldwide problem. Places like the United Kingdom for instance, by and large those guys there are in their late 50s or 60s and it's not something where you can go into universities and produce lots of people through the normal education system. I've come across lots of people over the years that have been very excited about the prospect of demolition, but they soon fade away. It is rare to find someone who will stick it with it long term, because 0.1% of it is glamour and the other 99.9% is just hard, stressful work. It takes time. You need to pay your dues; you need the right people around you."
So as South Africa – fresh from its latest round of elections – looks ahead to the future and Joe Brinkmann looks ahead with it, does he still feel the positivity that brought him to the country in the first place?
"The general view from the business perspective is that the outcome of the national elections is generally positive for the economy and business development in South Africa. The pace at which things improve is yet to be seen, as we are rebuilding the country from a low point in our recent history. There are many challenges to be overcome, but we remain cautiously optimistic, and look forward to the imminent future."