John Deere's electrification programme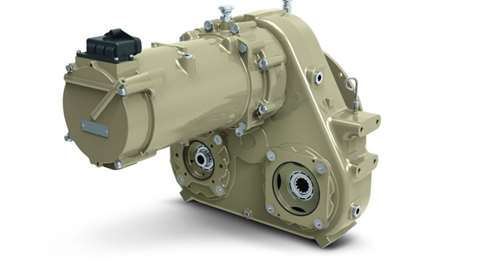 John Deere Power Systems (JDPS) is using the Bauma show in Germany to roll out its new electrification strategy —­­­ an electric and integrated drivetrain system portfolio comprising both power generation and traction drive components.
Darren Almond, drivetrain product planning manager for JDPS, said, "In this emerging market for electrification technology, we are working closely with our OEM (original equipment manufacturer) customers to understand their application needs.
"While the off-highway industry continues to grow and adapt to changing market needs and value propositions, its demands for reliability, durability, and performance remain the same. A rugged market requires a product that can meet expectations in a variety of applications — whether diesel, hybrid or electric."
JDPS and John Deere Electronic Systems (JDES) are developing integrated, series electric drive components designed in a modular fashion to provide power generation with a diesel engine or electric traction drive solutions that installs to a vehicle's existing axle.
JDPS is showing a new single-speed transmission and generator pump drive as prototypes, and they are scheduled to begin production by the end of this year. New three-speed transmission prototypes for select applications will be available next year.
The full electric drivetrain system will include compact, high-speed electric motors, controlled by power electronics from JDES. These eMachine components are integrated with various John Deere pump drive and transmission solutions resulting in a flexible and integrated drivetrain portfolio for ease of OEM implementation, said Almond.
For OEM applications ranging from variable speed power generation to fully electric vehicle transmissions, the modular and scalable electric drivetrain component designs offer power generation and traction drive solutions up to 200kW per unit.
One of the keys to this approach is said to be application flexibility.
"Frequently, you're dealing with situations where a manufacturer wants to electrify a traction drive, but still requires power for the hydraulic systems. With this dual-purpose solution, we can have both a hydraulic pump stack and a high power electric generator on the same gear box," said Almond.
"Another interesting aspect is we can take that motor and put it on the front side of one of our pump drives. Then that pairing can serve as an electrically-driven hydraulic drive which can be used in a hybrid or full battery electric vehicle application," he added.
JDPS said it was targeting early adopters of off-highway electrification technology.