John Sutch Cranes opts for Demag AC 100-4L
By cranes freelancer account27 January 2017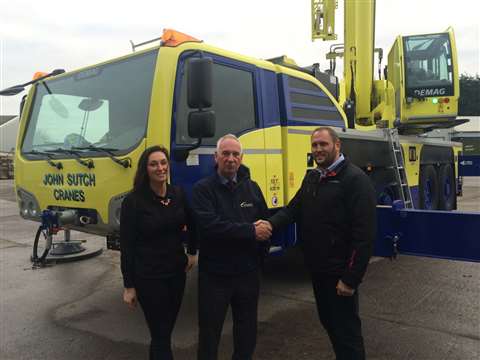 UK crane rental company John Sutch Cranes has taken delivery of a new Demag AC 100-4L all-terrain crane.
Earlier acquisitions include a Terex AC 30 City, a Terex AC 40 City and a Terex Challenger 3160 which operate from the company's two depots in Liverpool and Manchester. In the 100 tonne capacity class, the firm's latest Demag crane boasts a 2.55 metre-wide chassis, a boom length of 59.4 m and comes complete with the IC1-Plus control system. It allows slewing angle related capacity calculations. It also takes into account the outriggers configuration.
Managing director John Sutch said, "We looked at alternatives, and felt the AC100-4L was the right crane for us. It's compact, versatile and incorporates all the latest developments and technical advancements recently introduced by the manufacturer. It's a new generation of crane."
Established in 1990, John Sutch Cranes operates across a wide range of industry sectors. Recent projects include the Thermal Power Station in Runcorn and the Battle of the Atlantic Commemoration in Liverpool.