John Taylor grows UNIC fleet
By Sarah McCay08 September 2014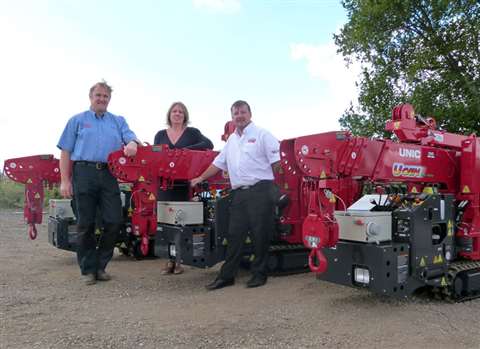 Bedfordshire and Cambridgeshire based John Taylor Crane Services has purchased three UNIC URW-295 mini cranes from GGR Group, European distributor for the brand.
Established in 1981, John Taylor Crane Services launched JT Mini Cranes in 2006 with the purchase of two UNIC URW-295 spider crane models from GGR Group. The fleet now includes a range of UNIC mini cranes up to 6 tonnes in capacity.
The new 2.9 tonne capacity UNIC URW-295 model is just 600 mm wide, and can fit through a standard doorframe, making it well-suited for both internal and external lifting operations.
The diesel powered UNIC URW-295 cranes can lift to a 9.8 m height when fitted with the 700 kg capacity combined fly jib and searcher hook. The mini crane is also fitted with the se UNIC Rayco Wylie i4300 SLI (safe load indicator) system, which gives operator feedback on a high-resolution LCD screen.