Jumbo uses Fairmaster vessel
By Christian Shelton01 February 2019
Breakbulk, heavy-lift and project cargo company Pacific Ocean Group commissioned maritime heavy lift company Jumbo to transport 16 ultra-heavy petrochemical columns and accompanying general cargo from Mailiao, Taiwan, to Point Comfort, Texas, USA, travelling via the Panama canal. The work was for end client Formosa Heavy Industries.
In total, the load weighed 6695 tonnes. It comprised three ultra-heavy columns, one 105-metre-long wash tower of 1720 t, and two ethylene oxide reactors weighing 1147 t each.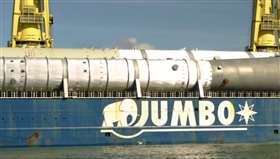 To transport the load, Jumbo used its Fairmaster heavy load carrier vessel. It is a K-class vessel, fitted with two 1,500 t cranes with a combined lifting capacity of 3,000 t. Jumbo says it is the biggest heavy-lift vessel in its class, and that the cranes give a larger outreach than vessels with less lifting capacity.
A video of the job can be seen at: www.youtube.com/watch?v=-T9NRKWlz_4&feature=youtu.be