Kahl Schwerlast takes delivery of Goldhofer bridge
By Laura Hatton02 June 2015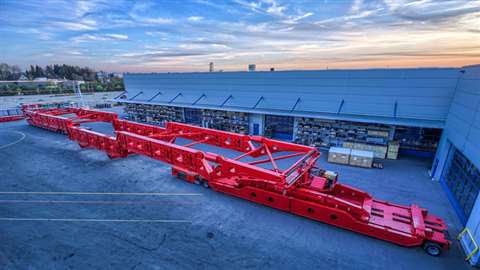 Heavy haulage company Kahl Schwerlast, based in Moers, Germany, has taken delivery of a Goldhofer high girder bridge.
The G²│K 600 girder bridge was designed by Goldhofer and the Greiner company, a specialist manufacturer of lift systems and bridges. The bridge has a maximum payload of 600 tonnes, a load bearing capacity of 550 tonnes and a distributed axle load of less than 12 tonnes and is designed for configurations with a maximum of 2 x 24 axles.
The G²│K 600 can be used for transporting heavy items like generators, transformers, motors, turbines and reels. It offers alternative load carrying methods in the form of load hangers with cross beams or direct coupling of transformers to the Z-girders. This can be achieved without the main beams or support bogies, the manufacturer said.
As a result of its design, the G²│K 600 can be used as a side girder deck, a vessel bridge, a high girder bridge or a self-supporting transformer transporter. The girder bridge has a span of more than 52 metres and a total length of 89 m without drawbars and tractors. In addition, bridge width is adjustable by between 1,620 and 6,200 mm, and vertical stroke in the loading section is 2,145 mm.
The bridge is used in combination with Goldhofer's heavy duty modules in the THP series and the hydrostatically powered self-propelled PST/SL-E transporters, with the option to increase the number of axle lines from 2 x 10 to 2 x 24 (split and parallel combinations), the manufacturer added.
Andreas Kahl, Kahl managing director, said, "With our new bridge, we are making a small contribution to maintaining Germany's position as an industry location in the fields of mechanical and plant engineering.
"Thanks to the various options offered by our new bridge, we will in future be more frequently able to take the fastest route for the job without any detours. That saves time and money and permits us to respond with still greater flexibility to customer requirements."
Stefan Fuchs, Goldhofer CEO, said, "This project is really unique in the heavy duty logistics industry."
Michael Greiner, Greiner Fahrzeugtechnik (Neuenstein) managing director, added, "We are proud to have been able to input our long years of experience into this project."
The official handover took place at the Goldhofer plant in Memmingen, Germany.