Kato launches 300 tonne all terrain crane
By Alex Dahm24 October 2020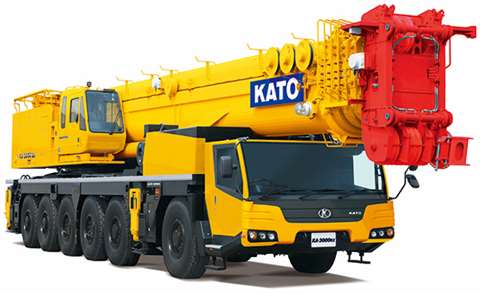 Mobile crane manufacturer Kato has launched a 300 tonne capacity all terrain crane on a six axle carrier.
The KA-3000RX is a global market crane with a 55 metre boom in five sections. Maximum working height is 110.7 metres. Jib options include the 35 metre Super Luffing (SL) and a 54 metre Heavy Lift (HL). Working height with the luffing jib is 92 metres and capacity is 24 tonnes. The longer jib can be assembled vertically, Kato said, to help where available space on the ground is at a minimum.
Maximum counterweight is 105 tonnes, comprising four 10 tonne slabs, eight 6 tonne slabs and the base plate. The rear swing radius with counterweight on is 5.5 metres.
In the carrier there is a 405 kW Daimler OM502LA diesel engine with selective catalytic reduction (SCR) while the crane functions are powered from a 205 kW Daimler OM906LA diesel in the upper structure. All wheels have disc brakes and there is a rear-steer function for stability and manoeuvring in tight spaces.