Kavanagh orders first Demag AC 220-5 in Ireland
By Ian Vallely28 January 2017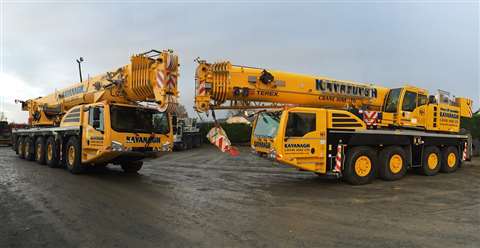 Kavanagh, which operates from the head office in Gorey, Co. Wexford, has acquired a new Demag AC 220-5. It now has four depots and more than 55 cranes to service Ireland.
With a 78 metre main boom length, the AC 220-5 is said to have the longest boom of any five-axle crane on the market. It is also a compact crane with a total length of 14.52 m and width of 3 m.
The crane also features the Terex IC1-Plus control system which calculates lifting capacities for every position of the boom subject to slewing angle of the superstructure. This enables usage of the maximum lifting capacity especially when lifting over the outriggers, providing lifting duties with the 18.7 tonne counterweight.
The arrival of the AC 220-5 follows another first for Kavanagh as they received delivery of the very first Demag AC 100-4L into Ireland, which arrived in October. The AC 100-4L has a system length of more than 80 m, providing a large operating range for an all-terrain crane in the 100 tonne class, in all configurations.
"Demag is a name which we have trusted for many years and we were delighted to see this return last year," commented Paul Kavanagh, director, Kavanagh Crane Hire. "We were also very impressed with the specifications of both the AC 220-5 and the AC 100-4L, particularly their boom lengths, which led us to placing the orders."
Kavanagh's fleet, which comprises several two-axle city cranes up to 500 tonne all terrain cranes, is predominantly Terex and Demag.