Keestrack homes in on hybrid
By Steve Ducker19 December 2017
Following a series of upgrades to its R5 mid-range series impact crusher units, Keestrack is introducing the R5e, a diesel-electric version of its 350 t/hr all-round model.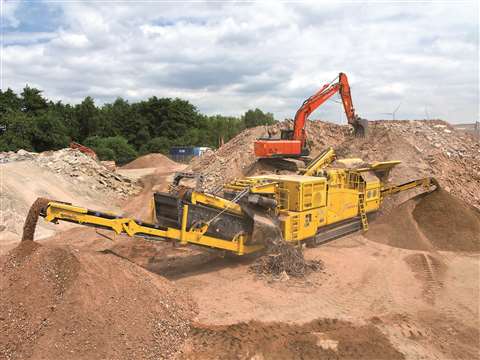 Similar to the larger R6e impact crusher model, the R5e has a 5,100 kg (11,243 lb) rotor driven directly via the 345 kW Volvo six-cylinder diesel engine.
The operating hydraulics powers all the lifting cylinders on the chassis and conveyor belts, the track drive, the vibrating discharge chute and double-deck primary screen and the compact double-deck post-screen module with oversize/stockpile conveyor. A 160-KVa generator now supplies the power to all other conveyor systems.
Weighing just 500 kg (1,102 lb) more than the diesel-hydraulic version, the electric unit is described as guaranteeing the full mobility of the Keestrack R5e.
Practical tests have demonstrated a considerable decrease in fuel consumption of up to 45% compared to diesel-hydraulic models, mainly due to a more even rotational engine speed.