Keltbray extends lifting services
Specialist contractor Keltbray Group has extened its lifting services to external clients from a new hub in east London, UK.
The company has offered lifting services since 2010 to complement its other sectors, which include engineering, construction, demolition, decommissioning, remediation, rail and environmental services. Keltbray said it has now invested £1 million (US$ 1.32 million) in specialist lifting equipment which will be kept at a dedicated base in Silvertown, east London, from where the company said it can easily access all major developments across London.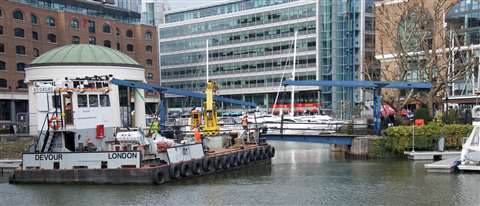 The company has already completed work for a handful of external clients, including maintenance and restoration specialist De-Pest, where the contract involved removal of a historic bridge at St. Katharine Dock in order that the bridge could be refurbished off site. Due to access constraints, Keltbray carried out the lifting operations using a barge-mounted crane and reported that it delivered the project ahead of time and on budget.
Keltbray said it has a track record for operating in highly regulated environments and that it has developed its expertise over a number of years by carrying out complex projects for its internal businesses at major developments such as Earls Court, Battersea Power Station, and London Bridge. It said it is now offering this capability as a stand-alone service or as an integrated part of other Keltbray services.
According to Keltbray, this optimises cost benefits for its clients. "As a specialist contractor, we employ a direct delivery model using our own people and plant," said Keltbray Group's lifting operations manager, who is spearheading the new service. "We also have access to our own engineering consultancy, Wentworth House Partnership, for design expertise. This enables us to manage lifting projects with a higher risk profile from start to finish and give our clients peace of mind that we've got their back using solid plans and equipment tested and inspected by our accredited people. As a result, we are well placed to provide a one-stop-shop to plan the works, as well as source the equipment and implement the lifting operations."