Key findings - IPAF powered access rental report
By Euan Youdale08 May 2018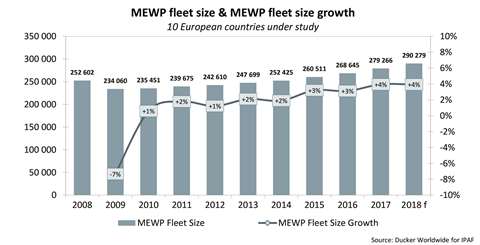 With the Powered Access Rental Market Report for 2018 set to be published soon, Matt Brereton, communications manager at IPAF, which commissions the report, gives an overview of its latest key findings.
The global picture for the MEWP rental market is still buoyant, with fears on Brexit and the Trump presidency looking unfounded, and sustained recovery in places such as Spain and Brazil that had suffered during economic downturns.
And there is still scope for growth with new specialist markets opening up worldwide.
The Powered Access Rental Market report is exclusively compiled by leading global research intelligence company Ducker Worldwide for the International Powered Access Federation (IPAF). The report gives essential business insight and offers users a unique opportunity to drill down into certain key markets using a series of economic indicators and measurements not available anywhere else. Earlier in 2018, IPAF and Ducker Worldwide won a prestigious European Rental Association award for business intelligence for these reports.
Last year, IPAF's Powered Access Rental Market Report was largely positive across the board, with Europe and the US in particular exceeding expectations and experiencing steady growth. 2018's report would seem to show a continuation of this positive upward trajectory: After a surprisingly good 2016, the MEWP rental market in the US continued to grow in 2017, though the pace of growth slowed slightly year-on-year. Fleet size increased by a further 4% in the US, and the total number of units there surpassed 580,000 units. Rental rates continued to increase slightly and in terms of outlook similar trends and growth levels are expected for 2018.
There is also a definite sense of companies trying to build resilience and sustainability into their business models; most are expanding MEWP rental activity on a sustainable and rational basis, in order to avoid so-called 'rapid growth' mistakes of the past.
The European MEWP rental market also had another positive year in 2017, for the second year in a row all indicators were positive in all ten European countries under study, with most markets experiencing strong overall revenue growth.
In terms of forecasting and business sentiment, there is a sense of growing optimism back in Southern Europe countries (Spain, Italy) after difficult years in the wake of the 2008 downturn. Substantial growth is now confirmed and expected to continue. Growth in the Italian and Spanish MEWP rental markets was driven mainly by increasing fleet size (respectively 7% and 4%).
In other countries that experienced relative stagnation in recent years, such as France, the Netherlands or Finland, there is now close to double-digit annual revenue growth. Those MEWP rental companies interviewed all agreed that 2017 was a good year in France, the Netherlands and in Finland, leading to strong revenue evolution, ranging between 6% in Finland and 10% in France.
Not only did the fleet size grow significantly in these three countries (4-5% reported growth rates), but utilisation rates also increased. Rental rates also started to increase progressively, by around 1-2% despite strong competition, after several years of decreasing rates or at best borderline stagnation.
In the UK, Germany and Sweden continue to experience a strong market growth for the seventh or eighth year in a row, though in Denmark and Norway revenue growth was more moderate. MEWP rental markets in the UK, Germany and Sweden continued to develop, with reported revenue growth between 3% and 5%, similar to the 2016 figures. In most of them though, competitive pressure remains strong and rental rates did not rise, or even decreased slightly.
Again the MEWP rental market in the UK outstripped the wider construction industry, growing by 4% against 2% for the construction sector. No doubt construction continues to be a driver in most markets, but these figures show there is still room for sector penetration and that there are other key sectors aside from construction that are driving MEWP rental growth.
Mergers & acquisitions were a feature in Europe in 2017 – Loxam bought out the Lavendon Group and TVH acquired Gardemann in two of the biggest and most hotly contested takeovers of the year –driven by a thirst for European consolidation and an eye to capturing a greater share of emerging markets and new growth on the fringes of the European access industry, in eastern Europe and Russia, Nordic and Baltic states and in Turkey, North Africa and the Middle East.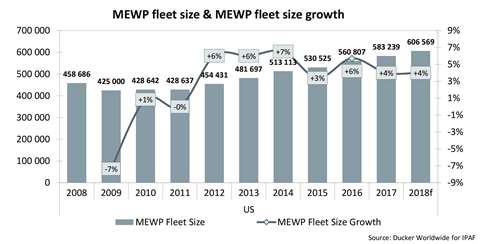 Regarding the Middle East, the IPAF Global Powered Access Rental Market Report for 2017 contained for the first time a specific country focus on the UAE; this has been extended to the 2018 report owing to the continued growth in fleet size and rental activity in the country. The latest report indicates positive growth is projected for the next few years for the UAE MEWP market, driven in no small part by the global 2020 Expo world trade show (4% CAGR 2017-19 regarding the MEWP rental revenue; increase in fleet size and slight increase in utilization rates).
However, the market outlook from 2020 onwards remains less certain, and is dependent on similar major construction and maintenance contracts being added to the pipeline and requiring powered access as an integral part of the delivery of those projects. In addition, the market is being challenged at the moment by increasing competition, which is suppressing and even driving down rental rates. Some companies are also pointing to issues in timely payment and late payment collection.
Asia still a very dynamic region regarding the growth of MEWP rental activity, especially in China, which is the market with the fastest fleet size development. Asian region fleet size is now expected to get close to 238,000 units (vs. 194,000 in 2016), including a significant share of second-hand equipment.
Meanwhile the Latin American MEWP rental fleet has grown more slowly, and has been underpinned in particular by the sustained recovery in Brazil, which prior to 2016 experienced several difficult years where the market declined through a period of economic and political turbulence.
At the end of 2017, the worldwide rental MEWP fleet size reached a level of 1.35m units. Growth in South East Asia is certainly dynamic, and is being driven by China, Malaysia, Singapore and Thailand in particular. This compares to the estimated 1.25m units in the worldwide MEWP rental fleet at end 2016 – an overall global increase of around 8% year-on-year.
Overall several factors are identified as having a major influence on the MEWP rental market worldwide. Principle among these are new standards, especially in Canada, where the new CSA suite of standards was introduced in May 2017 and will become compliant in May 2018. The ANSI standards in the US are at time of writing expected to be published imminently, though these are largely in line with the CSA equivalents and the industry has been anticipating their introduction since the beginning of 2017.
Many rental companies have continued a pattern of acquiring smaller competitors in a bid to continue consolidating market share, while new technologies are also playing a leading hand, with cleaner, more efficient machines serving growing customer demand in light of more stringent emissions regulations.
Smart technologies are also allowing rental companies to track their fleets more effectively and service demand more efficiently, which in turn allows increased utilisation rates. New specialist machines or MEWPs with extended capabilities are also opening up new markets and applications, while boosting utilisation and in many cases aiding incremental rental rate increases.
As well as these key indicators, IPAF's annual Powered Access Rental Market Report also delves into other areas, including MEWP rental market penetration, applications, power sources, value growth and investment over a ten-year period, including equipment purchases and typical payback periods.
The Powered Access Global Rental Market Report is compiled each year by Ducker Worldwide exclusively for IPAF and is available in English only. The report is compiled based on interviews with rental companies and other industry experts globally and the research for this year's report were conducted in April 2017. The report is available to purchase in full via www.ipaf.org/reports, while last year's version can be purchased at a 50% discount and older versions of the report can now be downloaded free.