Kinshofer acquires Doherty
By Steve Ducker12 January 2018
German attachment specialist Kinshofer has acquired the New Zealand-based Doherty Group in its latest move to develop its product range in the excavator and crane markets.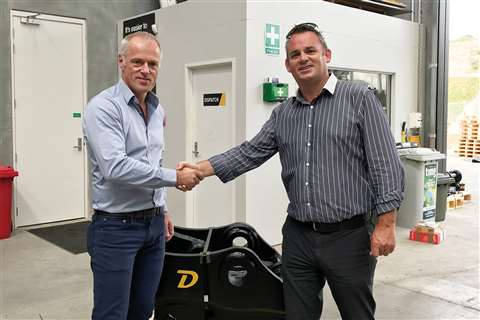 Kinshofer has been a leading manufacturer of attachments for truck mounted cranes, excavators and skid steer loaders for almost 50 years.
It said the acquisition of Doherty adds additional product segments such as quick couplers, buckets and other excavator products to an already very comprehensive offering, as well as improving the company's distribution channel in New Zealand and Australia.
Doherty, a family run business set up in 2001, develops and markets tools and equipment which make carriers such as excavators more effective and versatile, which is particularly important for small and mid-size contracting businesses seeking high machinery utilisation.
It will continue to develop and sell its products globally and both companies will recruit more staff to meet current market requirements.
"Kinshofer continues its strategy to provide the industry with a 'One-Stop-Shop' solution of outstandingly engineered products to increase efficiency and, more importantly, profitability of our customers," said its president and CEO Thomas Friedrich.
"The acquisition of the Doherty Group was the next step in our approach to be a local manufacturer in New Zealand and Australia".
Jeremy Doherty, who will remain as managing director of the Doherty Group, added: "The concentration of knowledge and competence will form a powerful center for future developments of which customers can only benefit from.
"In particular, the combination of both product ranges will create more ground breaking innovations for the industry."