Kinshofer targets enhanced productivity
By Steve Ducker05 January 2018
Excavator and loader crane attachment specialist Kinshofer has introduced the DXS Series of hydraulic mobile shears.
According to the company, the range features industry-leading in its size class power-to-weight ratios, jaw opening sizes, cycle times and hydraulic efficiency. The attachment series, which debuts with the DXS-50 model, is ideal for demolition.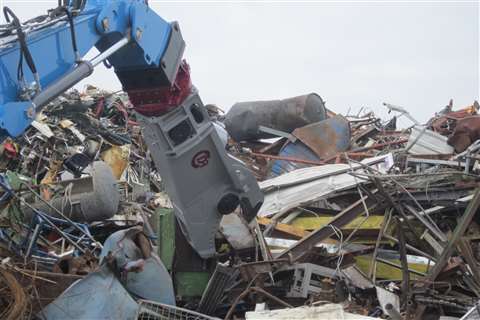 "We designed the DXS Series to enhance contractors' productivity and return on investment," said Francois Martin, Kinshofer North America general manager.
"Traditionally, more power means a larger cylinder, which results in a bigger, heavier shear and, often, a larger machine.
"The DXS-50 has the same-sized cylinder as shears in the same weight class, but with 20% more power, allowing our customers to achieve higher performance without investing in larger carriers.
"This saves them money up front while improving their ROI with the attachment's production-boosting qualities."
Kinshofer said its DemaPower cylinder technology gives the DXS-50 the same power as shears two sizes larger. The cylinder uses four chambers instead of the two found in other shears, resulting in 20 % more surface area within the cylinder.
Like the DRS-45, the DXS-50 is suited for 25 to 35 t carriers when boom mounted, and 32 to 50-t carriers when stick mounted.
The DXS-50's high power-to-weight ratio means the attachment is suited for top-down demolition, both because contractors can use smaller carriers and because the attachment's light weight and superior cylinder technology improve fuel efficiency while the excavator arm is fully extended. In addition, the company designed the attachment with a narrow frame to allow operators to better see their work.