Klubb opens truck mount plant
By Euan Youdale26 June 2017
France-based Klubb has opened its new facility dedicated to truck mounted aerial work platforms.
The vehicle mount manufacturer launched the 13000 square metre facility in Croissy-Beaubourg, France on 22 June. The new range produced there will comprise articulated telescopic machines with working heights of 18m to 26 m, as first presented at Apex in May.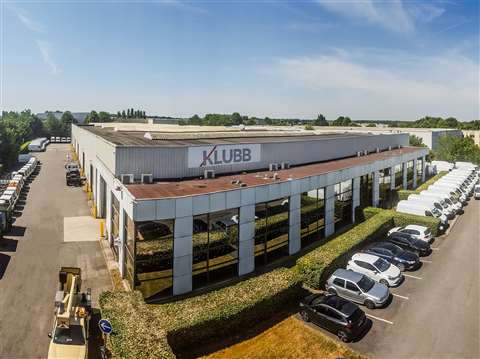 The facility, including a 7000 square metre plant joins the 20,000 square metre existing site in Ferrières-en-Brie, dedicated to the production of vans, pick-ups and other chassis.
The Ferrières-en-Brie site opened at the start of 2016 and now manufactures 1000 platforms per year, with the goal being to reach 1700 a year with the new Croissy site, all product categories included.
"Today the group is showing 20% growth, carried by the development of our export activity," said Julien Bourrellis, president of Klubb.
The company notably opened up a second design office at the end of 2016 to facilitate the design of these new products. Additionally, the company acquired the intangible assets of Comilev, specifically the patents and drawings of the Xtenso range, to accelerate the development of its truck-mounted platforms.
The Xtenso range and Comilev's know-how in large aerial platforms, combined with Klubb's experience in vehicle-mounted platforms will enable it to offer a complete range, says the manufacturer.
The first Xtenso3 is an 18.5 m telescopic platform with an outreach of 13.9 m, designed to be mounted on a heavy truck from 14 tonnes using the chassis or workshop model. The Xtenso4 has a working height of 21m with 16.4m outreach, mounted on a heavy 16 tonne truck.
Finally, the Xtenso5 features a working height of 25.5m, outreach of 20 m on trucks from 16 tonnes.
All these models come with unrestricted lateral outreach, three-operator and 280 kg basket capacity and a 180° articulated telescopic jib.
Since Klubb launched its range of aerial platforms at the end of 2015, the group has created more than 100 jobs in the region of Seine-et-Marne, said the company.