Kobelco announces first European sales of 130 t high reach
By Leila Steed27 June 2022
Kobelco Construction Machinery recently launched an ultra-high reach demolition excavator for the European market, with an operating weight of 130 t and a maximum reach of up to 40 m (131 ft).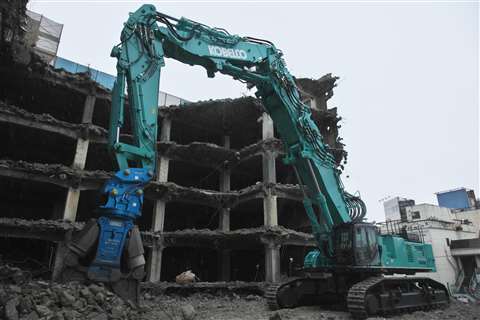 Described as its new "flagship" model, the SK1300DLC is fitted with a Stage V-compliant 380 kW engine from Hino. It is the largest machine in Kobelco's demolition range, which includes the SK350DLC-10E, SK400DLC-10E and SK550DLC-11 models.
Following a series of customer events in the Netherlands, three of the machines have been sold for use on demolition job sites across Europe.
Like its sister SK350DLC-10E, SK400DLC-10E and SK550DLC-11 machines, the SK1300DLC features the company's Next Advance system.
The system comprises a four-piece articulated boom that can carry heavy attachments for high-reach tasks, while keeping the machine's centre of gravity low.
In its 40 m configuration the SK1300DLC can accommodate a crusher capacity weight of 4.3 t, and when used in its 35 m (114 ft) configuration it can handle crusher weights of up to 5.2 t.
Peter Stuijt, Kobelco's product manager, said: "The SK1300DLC is ideal for demolition projects that require a high reach of over 30 m (98 ft), but its Next Advance system also makes it ideal for demolition work at ground level or sub-ground level too.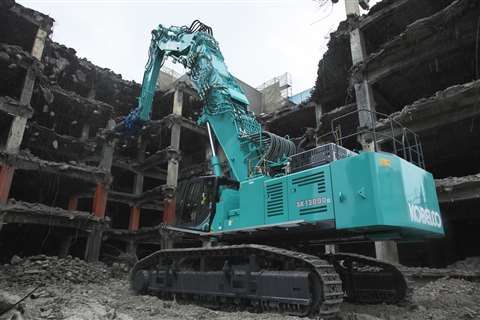 "We see that this versatility, and the fact that it is quick and easy to disassemble and transport, is of great benefit to demolition contractors working on multiple jobsites."
The demolition machine is also available in a three-piece high reach attachment version - offering 35 m and 31 m (101 ft) configurations for weights of 5 and 6.1 t respectively - and in a separate boom configuration that can be fit with crushers of up to 12 t.
According to the Japan-based manufacturer, the demand for larger demolition machines in recent years, particularly in the industrial, power, oil and infrastructure sectors.
Aiming to meet this demand, the SK1300DLC was specifically designed to be able to cope with tough applications, particularly those that require the demolition of structures built with reinforced materials.
"As an earthquake epicentre, buildings in Japan are often reinforced with concrete or steel to help ensure they are strong enough to resist seismic activity and provide adequate protection in the event of a natural disaster," it said.
"However, when older buildings are no longer fit for purpose and redevelopment is required, machinery needs to be strong enough to demolish these structures, but also powerful enough to get the job done efficiently."
On the safety side of things, the model's demolition-specification tilting cab is equipped with a Tip-over Warning device and Kobelco's Interference Prevention System, which alerts the operator should the attachment comes get too close to the cab and gently" stops it automatically.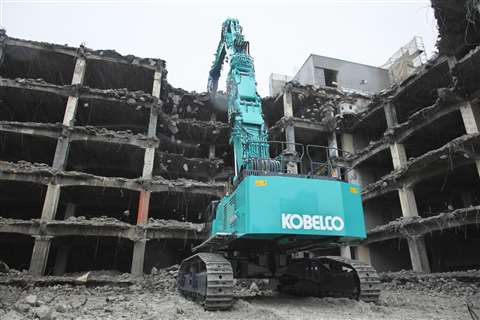 High intensity LED work lights at the machine's front, cab lights and a boom light are also included for added safety, along with six exterior cameras and a "debris detector to prevent falling demolition debris from colliding with the cab, handrail and cab emergency lowering device lever".
"Despite its commanding size", the SK1300DLC has a modular design that enables contractors to disassemble the machine in just two hours.
In its collapsed configuration the excavator weighs less than 32 t with a width of 3.2 m (10 ft 6 in), enabling it to be easily transported from site to site.