Kobelco crawlers out in the cold
By Alex Dahm20 October 2020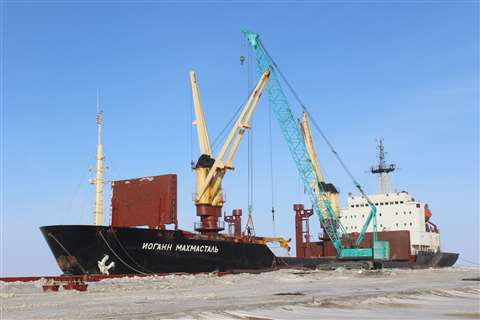 A pair of Kobelco crawler cranes has been specially prepared and put to work in the extreme cold of Russia's Arctic region on a gas project.
Energy giant Novatek is at the forefront of Russia's exploration and recovery of the region's resources. Around 500 km inside the Arctic Circle, Novatek's US$25.5 billion Arctic 2 LNG project will help fulfil the needs of Russia's domestic and export energy market when it is completed in 2023. It will run alongside the company's US$27 billion Yamal LNG and US$5 billion Arctic LNG 3 projects.
On Siberia's Gyda Peninsula, which juts 400 km into the Kara Sea, the region is remote, inhospitable, and very cold – winter temperatures average just -30 °C and it's dark from mid-November until late February – which makes extracting gas from Arctic LNG 2's Utrenneye gas field no easy task.
To overcome the constraints of working in the extreme cold, and the logistical challenges of constructing Arctic 2 LNG's three LNG trains, specialist sub-contractors JGC, Technip and Chiyoda are using a modular, off-site construction process. The project's extensive infrastructure of wharfs, quays, roads, airport, railway, living quarters and more, is being constructed using more traditional, on-site methods.
Mezhregiontruboprovodstroy (MRTS), part of a team of specialist contractors assembled by Novatek with experience of working in the Arctic, has been tasked with delivering a series of pipelines, quays, and wharfs to facilitate operation of the Arctic 2 LNG.
A specialist in complex dredging works and seaport facilities, MRTS recently completed work on construction of the Port of Sabetta on the opposite side of the Ob Bay from Arctic 2 LNG, part of the larger Yamal LNG, and a new LNG regasification terminal for Gazprom, Russia's largest gas supplier, in the Kaliningrad region.
In preparation for the work, MRTS acquired a pair of 250 tonne capacity CKS2500 crawler cranes from Kobelco Cranes dealer in Russia, FKR Machinery. Before starting work, however, both machines underwent some modification.
"Kobelco Cranes can work almost anywhere," explained Rene Kraakman, Kobelco Cranes service and technical support manager, "but the Arctic is a 'special' type of environment, that requires something completely different from man and machine.
"Normally we supply our cranes with ISO VG32 oils for the Russian market, which are suitable for operating temperatures of 30 to -25°C," said Kraakman, "but for the extreme cold found in Siberia, FKR used Kobelco's ISO VG22 oil, which is suitable for temperatures from 15 to an incredible -30 °C, and retrofitted both machines with Webasto's Arctic Kit, which allows the machine to work in this extremely hostile environment."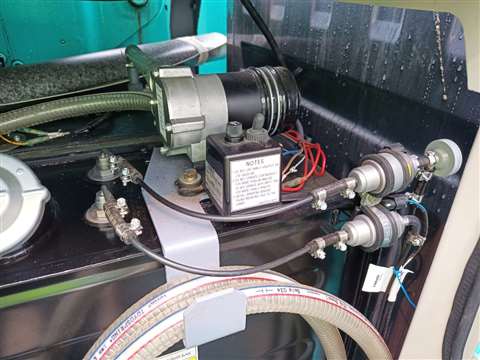 To cope with the extremely low temperatures in the Arctic, the Webasto kit includes:
Air heaters that operate independently of the engine, allowing the operator to maintain interior temperatures without idling the machine.
Coolant heaters that bring the engine to optimum operating temperature with the option to heat the cab and the hydraulic fluid, even before starting work. This allows the operator to begin working immediately, rather than idling during startup, breaks and load times. The coolant heaters circulate the machine's coolant over a heat exchanger and then pump it back through the engine and the HVAC system. The result is a pre-heated engine and cabin interior. In extreme climates, such as those at Arctic 2 LNG, the heater can be used with additional accessories to warm the fuel, hydraulic fluid, and batteries.
Integrated heat exchangers, available in various capacities, allow for multiple configurations and installation positions, and can be paired with a fuel operated heater to allow for a more robust engine-off heating solution.
The two CKS2500s are both fitted with a CR67.1m boom with free fall winches with boom lengths of 51.8 and 57.9 metres, respectively, for a working radius of 20 metres. Pile weights for the quays and wharf construction can be up to 30 tonnes, with a maximum length of 45 metres, while concrete pipes used for the delivery of the gas can be as large as 1,000 mm in diameter and 10 metres long, with a maximum weight of 20 tonnes.
With the project scheduled for completion in 2023, FKR will be carrying out regular preventative maintenance and servicing of both CKS2500s, while liaising with MRTS and Kobelco Cranes to make sure both machines are capable of working in the demanding Siberian environment.
Commenting on the delivery and commissioning of the cranes Vladimir Zakharov, FKR Machinery CEO, said, "We are extremely pleased that two CKS2500s are playing a vital role in the delivery of this important energy project for Novatek. Successful delivery of both machines required a multi-agency approach, proving that whatever the challenge, the Kobelco Cranes team, dealers, including FKR Machinery, and its products, are more than capable of rising to meet it."