Kobelco looks to the future
Kobelco Construction Machinery Europe is using this year's Bauma to unveil the 17SR, a "concept" 1.7 t  mini excavator it is developing in conjunction with Deutz.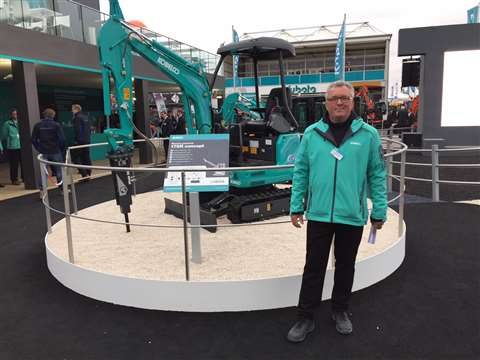 Product marketing manager Peter Stuijt said that the electrified machine gives the same performance as the previous non-electric model but with greater autonomy which means it can run for up to two hours continuously.
A follow on from the SK210HLC-10 hybrid, it is being developed to address environmental demands that vary from country to country and can also work on indoor demolition projects.
He added that Kobelco expects to commercialise the product by 2021, but it is not the only vision of the future that the company is promoting at the world's leading construction equipment exhibition, which runs until Sunday.
Also on show is the K-Dive control simulator, based on the idea of remote controlled construction software and machines that work in remote or dangerous places, such as disaster zones, or where manpower is scarce.
"It's a new development to show what is possible," said Peter. Kobelco is looking at 2025 as the likeliest date for the commercialisation of the technology
Altogether Kobelco has 25 exhibits at Bauma including the SK550 D demolition unit with 27.5 m (90 ft) pin height which was launched a year ago and has already attracted sales into customers in Belgium, Germany and the United Kingdom.
The company's first Stage V SK75 SR-7 and SK85 MSR-7 midi excavators, which feature a number of improvements as a result of dealer feedback, are on display, as is the company's heaviest excavator - the SK850LC 10-E.
"We are not well known in Europe for big excavators," said Peter.
"But we have sold this the Far East, Middle East, South Africa and North America and now it is compliant with Stage V there is an opportunity in Europe."