Kocurek Excavators – The big time
If any business could be said to occupy the middle ground of the demolition excavator market, it is probably Kocurek.
Not entirely a manufacturer – in the conventional sense of the word – nor a distributor, the company has carved its niche by combining the expertise of the former with the salesmanship of the latter in a series of product modifications and conversions, most of which started with a clean sheet of paper, or at least a blank computer screen.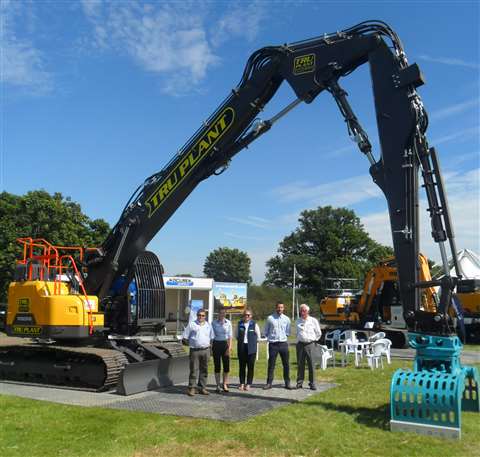 And from its base in the east of England, it is well placed to chart the changes in the market around it, and to respond accordingly to make sure the niche is preserved.
It's a position that technical sales manager Fred Stearn, who joined as a junior engineer before progressing through, and briefly managing, the company's design team before settling into his current role, sums up quite neatly.
"The factory is pulled by our customers" is Fred's view.
"It's not pushed by our designs. There are trends in demolition but we don't just come up with something and then go out and sell it. If you look at 35 t and 45 t machines, they are all very similar. Everyone's making them; manufacturers have become more interested in supplying the whole package."
High reach excavators at Bauma
Sales manager Ron Callan, an industry veteran whose connection with Kocurek goes back to the last century, picks up on the point.
"Until recently, the market wasn't big enough for OEMs (original equipment manufacturers). They have a design. They make it, they sell it, there's no scope. It's like the Model T Ford when you could have any colour as long as it's black. We say, 'what do you want, Mr Customer?' At Bauma in 2016, there were some high reaches from excavator manufacturers. Three years later everybody had one.
"People ask us how many machines we make in a year. We say 'what size?'
"We don't sell from stock. If we built a 90 t 40 m (131 ft) conversion and sited in on the front drive, we wouldn't have to wait too long for a customer. But otherwise there's no indication that we are here."
Here is a factory in Ipswich, which is around 130 km (80 miles) from London.
It may be off the beaten track, but it gives Kocurek and its 65-strong workforce just over 5,500 sq m (around 60,000 sq ft) to operate in. This year, the company expects to turn over between £6 million and £7 million (US$7.8 million and $9.1 million), reflecting the specialist nature of its day to day activity. At the end of 2019, the order book was full well into the third quarter of this year. Normally, four to six months ahead would be the average.
Ipswich is best known for its football club, which supplied two England international managers either side of a period of consistent over-achievement in the 1970s and early 1980s. In that sense it is a fitting setting. Kocurek's reputation has spread far beyond its immediate geographical area as well, though in its case the 1980s – it started out in 1983 – was the beginning of the journey.
Modifying a Hitachi for Liberty Industrial
One example was the company's modification of a custom built 200 t Hitachi Ex1200 high reach for Australian demolition contractor Liberty Industrial. It was shipped from Hitachi in Japan to the UK, and after Kocurek's intervention it made the 15,000 km (9,000 mile) journey to the southern hemisphere.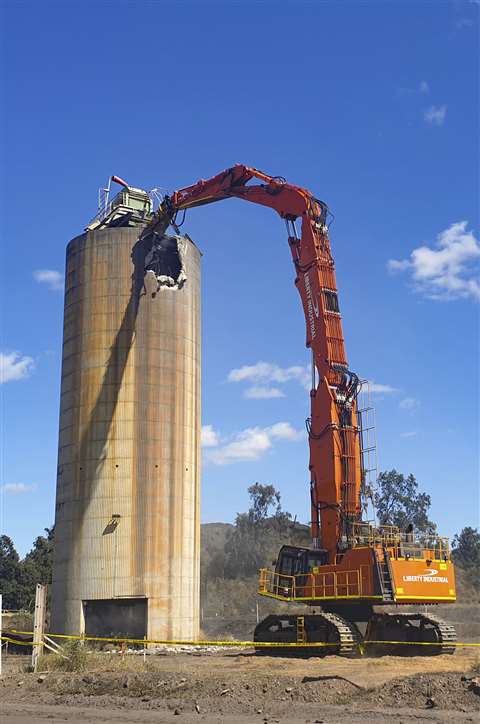 The job might have been unique, but for Fred Stearn the brief was normal enough.
"Liberty came to us with what they wanted," he recalls.
"They set the bar high, and then it was up to us to see if we could do it. Sometimes we do have to tell customers that something is not possible through physics, such as putting 25 t on a smaller machine – if you show them it's not possible, they will accept it."
Fred also saw the Liberty project – which was shortlisted in the Manufacturer Innovation Plant and Equipment category of the World Demolition Awards, a prize Kocurek has won five times since 2011 – as an illustration of the differences in the market as machine sizes increase.
"There is a battle going on in demolition in the 35 to 50t class, and in long reach excavators.
"When you get to about 65 t it's not the same. The competition becomes international. If somebody wakes up wanting to buy a 50 t, they will probably get six competitive quotes on their desk the same day. But for a 300 t machine, they will get two, or three if they are lucky. I've just done a 50 t machine into Finland without meeting the customer. There was nothing to explain, he knew what he was going to get.
"On larger machines, we are competing against companies in the Netherlands, in America – they are the go-to people for big custom modifications, but it's quite a small market. Distance has nothing to do with it, because if a tender goes out for a 250 t demolition machine order will land on my desk at some point."
While Fred is delighted with the healthy state of Kocurek's current business, especially at a time that is still essentially pre-Brexit, it does bring its own challenges.
"If we had the capacity right now, if we had another 50%, we could probably book another £500,000 to £1 million ($650,000 to $1.3 million of work, with just a few phone calls. As things are, we've worked hard to touch base with international contractors. Brexit is going on but it's like a garden fete compared to what goes on in some other places.
"And if the European Union market shuts down, there are others. We do lots of business in Russia. Just now we have two machines going into Russia and another two going into Switzerland. We have a lot of machine fronts going into America, where we have a dealer called Company Wrench. We containerise the front of the equipment and they sell it on."
Kocurek's 'big recruitment push'
The nature of its business means Kocurek cannot be recklessly adventurous in addressing any capacity issues resulting from the positive outlook it currently enjoys, but a "big recruitment push" is on the agenda.
Immediately, this throws up another problem. The skills shortage in demolition, in Britain and elsewhere, is well documented, so populating the factory is not just a question of build it and they will come.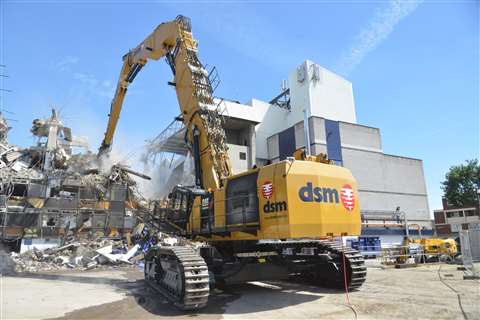 "There is a skills shortage across the industry," said Fred. "It's in CNC (computer numerical control) machining, it's in welding. The National Demolition Training Group brought 16 students here in December and we gave them a presentation and a factory tour. And we do take apprentices – we are trying to work with and approach local colleges who may not know we are here.
"In fact, if you work on the next industrial estate you will never have heard of us. But we are here."
Last year marked a quarter of a century in the purpose-built facility that Kocurek now occupies. In that time, the factory has doubled in size and further investment is ongoing.
Final word to Ron Callan: "Excavator OEMs are multi-million pound companies, so there's no point taking them on. But if we are going to take them on, it's because we are doing something different…"
First published in the January-February 2020 issue of Demolition & Recycling International