Komatsu focuses on intelligent machine control
By Sandy Guthrie04 April 2018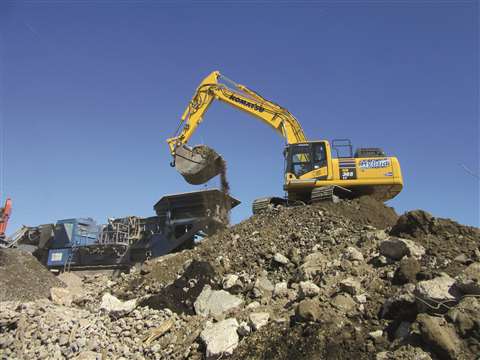 Komatsu will present a range of its latest innovations, products and services at Intermat 2018, with more than 30 Komatsu machines displayed on an indoor 3,200m² stand, and demonstrations live on a 2,000m² outdoor area.
Komatsu said its intelligent machine control technology would take centre stage. The PC210LCi‐11 excavator with its automated tilt bucket, and a D61PXi‐24 dozer will be demonstrating the technology that was first introduced in 2013.
Launched a decade ago, Komatsu's hybrid technology will be represented at Intermat by the HB365NLC‐3, in "narrow" configuration. With over 4,000 hybrid models sold worldwide, Komatsu said it helped customers to reduce their carbon footprint and fuel consumption by up to 30%.
The Stage IV-compliant PW118-11 wheeled midi excavator will also be on show.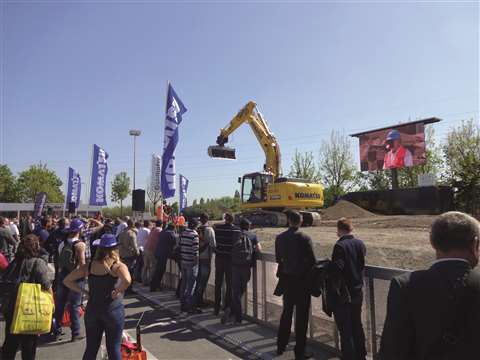 Komatsu's growing range of MR‐5 utility excavators will also be showcased. The PC30MR‐5, PC35MR‐5, PC45MR‐5 and PC55MR‐5 hydraulic excavators – launched in February this year on the European market – are four machines with tight tail swing radius and swing booms that are said to hug the machine to help with work in tight spaces.
The demo area will feature the PC390HRD‐11 demolition excavator in action, and an exhibition designed to show the efficiency of Komatsu's intelligent machine control.
The company promises in‐depth information and assistance for visitors about the company's high‐tech product support and services such as KomVision, now standard on most machines, KOMTRAX telematics, Komatsu engine technology, aftersales, genuine parts, Komatsu Qualified Used Equipment, Komatsu Finance and Komatsu Care – Komatsu's maintenance programme for customers.