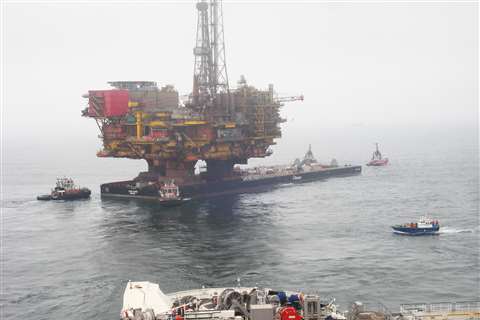 Kotug assists Allseas with transport of oil platform
By Christian Shelton24 July 2017
Netherlands-based towage services provider, Kotug International, has announced it successfully assisted offshore contractor Allseas with the transfer and transport of Shell's Brent Delta topsides after the recent removal of the structure by Allseas' vessel Pioneering Spirit.
Kotug was primarily involved in transferring the topsides from Pioneering Spirit to a cargo barge, called the Iron Lady, and the ensuing tow of the barge to the Able UK decommissioning yard in Teesside, North East England using four harbour tug boats.
As the entrance channel to the Able UK decommissioning yard is narrow and tidal restricted, Kotug said the final part of the journey required in-depth towage expertise and powerful, versatile tugs. As such, Kotug and Allseas chose to deploy two tugs from Rotortugs and two ASD tugs in order to create maximum redundancy and manoeuvrability in the tug configuration, Kotug said.
Kotug tow master, Bas van Hoorn, commented, "We have worked for Allseas in previous offshore projects and we were honoured to be selected for this ground-breaking project as well. The towage operations were carefully prepared in close cooperation with Allseas, with extensive calculations and risk assessments to determine the safest and most efficient towage plan for the Iron Lady. Thanks to great collaboration with the tug crew, the Tees pilots, the Allseas team (on board and ashore) and Shell, we can look back on a job well done!"