Kranpunkten takes Genie superboom
By Euan Youdale15 July 2014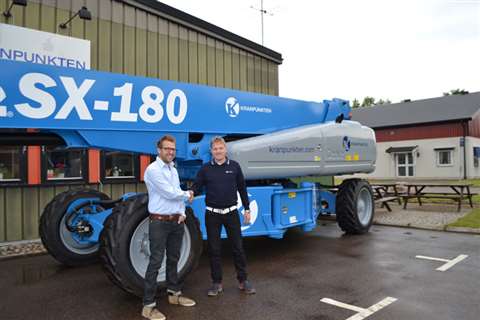 Swedish rental company Kranpunkten has taken delivery of one of Europe's first Genie SX-180 superbooms.
The 57 m (187 ft) working height machine was handed over to Rikard Jönsson, purchasing manager for Kranpunkten by Thomas Anderson, Genie sales manager for Sweden at the Kranpunkten head office in Förslöv on 3 July.
It represents one of a number of deliveries of Genie SX-180's to Dubai, Abu Dhabi, South Africa, Germany and the UK, taking place in July and August. They will be followed by more in Europe, the Middle East, Africa and Russia (EMEAR), said the manufacturer, but it did not confirm the quantity.
As the latest addition to the Kranpunkten fleet of some 2400 machines, the Genie SX-180 will be available for rental from all six Kranpunkten branches to customers across the country.
"There has been great anticipation throughout the industry about the arrival of this new superboom model, and our customers are going to really value its potential out in the field," said Mr Jönsson.
"For us, one of its strongest benefits is its ability to be driven at full height at a steady 0.2 mph. Without needing to retract and redeploy the boom each time they move, this is an efficiency that will save operators a lot of time."
The SX-180 offers a working height of 56.85 m (186 ft) and a horizontal reach of 24.4 m (80 ft).
"I look forward to working with Genie further and seeing how my customers get along with the SX-180. I'm intrigued to hear their feedback when it gets on site," added Mr Jönsson.