Kuiphuis adds more Spierings eLift cranes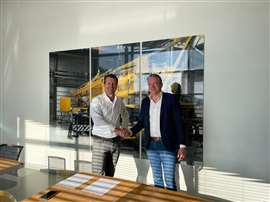 Crane rental company Kuiphuis Kraanverhuur in the Netherlands has ordered a pair of electric crawler-mounted tower cranes from manufacturer Spierings Mobile Cranes.
The first of the two SK2400-R eLift cranes will be delivered in the first half of 2024. Kuiphuis already has five eLift cranes in its fleet. Bob Bruijsten, Kuiphuis director and owner, commented, "We may be moving faster than construction companies at the moment. We find that construction companies are still getting used to the fact that with electric cranes of this size we can already run on construction with a 16 amp connection.
"If we already look at how many hours we run emission-free every week, that just makes me proud. In addition, both new machines are much needed, we have requests from all over the country for the eLift system, specifically for the SK2400-R capabilities."
Family-owned Kuiphuis has more than 40 cranes from Oss, Netherlands-based Spierings. Demand for these types of cranes is increasing, the company said. Loads are getting heavier and more and more elements are being supplied prefabricated, which as a crane rental company you have to respond to, Bruijsten explained.
Lifting for the future
On behalf of the manufacturer, Mathieu Braamhaar, Spierings sales engineer, said, "Kuiphuis is a wonderful family business which invests in the future, the fact that they are now the first to operate with our new SK2400-R eLift is a great milestone. The SK2400-R eLift is a further development of the SK2400-R which we have been producing for some time. However, the new crane has multiple configurations for lifting. With one transport you already have a lifting capacity of 2,800 kg at 42 metres. This has made the crane multifunctional."
This model has a 42 or 50 metre jib and lifts 5.5 tonnes or 2.5 tonnes at jib-end. At 14.6 metres radius the capacity is 18 tonnes. Spierings is best known for its mobile folding tower cranes which are tower type cranes mounted on multi-axle wheeled carriers. Sales total around Euro 100 million a year.
Kuiphuis has been going for more than a century. It has more than 100 employees and branches in the eastern, northern and central Netherlands. For Germany the company has a branch over the border in Bad Bentheim. Its mobile cranes range from 40 to 250 tonnes capacity.