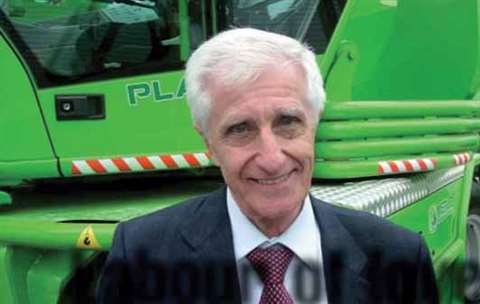 There isstill room for innovation in the access industry, that much is being demonstrated by Italian telehandler manufacturer Merlo, who surprised visitors to Bauma by showing several new articulated aerial platforms mounted on 'Roto' type carriers.
Merlo's energetic chief executive officer, Amilcare Merlo, told Access International in Munich that the l company had long been interested in the access sector but wanted to bring something new; "We think platforms are very close to our telehandlers… we are ready to transfer this technology with a lot of innovations to the platform world."
A follow–up visit to Merlo's factory in June to see the new machines in moredetail confirms the initial impression – shared by many Bauma visitors – that the machines do indeed offer something new.
The key selling point of the three models – the 20 m working height MPR 20, 25 m MPR 25 and 30 m MPR 30 – is a working envelope comparable to conventional self–propelled booms but on a carrier that can travel at 40 kph on road and also be driven from the basket at speed of 6 kph with the boom retracted and at 1 kph when raised(up to their full heights).
Merlo says this travel speed, and the ability to drive from the basket, means that it can, first, carry out a wide range of tasks more economically than a conventional self–propelled boom because it eliminates the need to use a transport trailer to deliver and collect the machine. Second, it can compete with truck mounted machines in certain applications and at the same time offer a wider range of uses because of its self–propelled and rough terrain capabilities. (On–road travel will be possible using a standard vehicle licence in most of Europe, although it is likely that an HGV licence will be required in the UK.)
Application possibilities
The company sees applications on very large sites – such as petrochemical facilities or airports where the mobility will be valuable – or for moving between a number of relatively close sites. Merlo actually cites the case of a small municipality requiring machines to travel 8 km to maintain street lighting – an actual example of a typical application at the nearby municipality of Cuneo.
Despite these claims, Merlo clearly isn't completely sure itself of where the best applications will lie, or even the size of the market for the platform in Europe, where it will initially be sold from Spring next year. And in fact, during the factory visit, several journalists were suggesting applications that Merlo had not mentioned, including its use as a fire–fighting machine for urban areas or for tree trimming applications and even live–line work for utilities and public authorities.
In reality the machines overlap with a wide range of existing access machines, including conventional self–propelled booms, truck mounted platforms above the 3.5 t GVW threshold, and even to some extent the niche rough terrain models made by companies including Nostolift (the Kesla models) and Niftlift (the SD models), although the latter >machines are different in that they need to deploy outriggers before the boom is raised.
The MPRs themselves look extremely well–built and designed, as you would expect from an engineering–led company like Merlo.
The platforms use a hydropneumatic suspension with automatic leveling laterally and longitudinally. This allows the platform to be levelled up to 9 degrees (16%) laterally and 5 degrees (9%) longitudinally, allowing its use on slopes of up to 12 degrees laterally and 8 degrees longitudinally. (In other words, with the chassis 3 degrees out of level.) Levelling can only be done with the boom lowered. Four wheel drive is standard on all machines, as are the three steering modes (front wheel, four wheel and crab steer).
All three machines use Merlo's existing MERlin control system. Among other things, this will detect if the platform starts to exceed the maximum allowable slope, and will lock–out the machine. It then needs to be lowered and re–levelled before work can continue.
The platforms use a counterweight to maintain a central centre of gravity, and in the case of the two largest machines, this counterweight rotates upwards from a rear hinge as the boom rises. The weight distribution on road is 40% on the front axle and 60% on the rear, and this changes to nearer 30% front, 70% rear when in platform use.
The two bigger machines share a two–section riser boom and have either two or three–section upper telescoping booms. The 20 m model as a single boom riser and two–section upper boom.
If the weights of the MPRs are similar to conventional self–propelled booms – between 11.5 t and 15.9 t – there are differences in the outreach characteristics, withboth the 25 m and 30 m versions offering a constant maximum outreach of around 17 m over heights ranging from 3 m to 17–19 m.
Renato Galfre, Merlo's technical director, who led the design effort for the new machines, says the 'big idea' is the 40 kph on–road travel speed. "We wanted a platform that had better performance than existing models", he says.
There are also some nice design touches in other areas. For example, the fly jib – which rotates vertically and with a horizontal rotation of the basket – uses a combination of hydraulic cylinders and chains that keeps the speed of movement the same throughout the articulation range.
Merlo has also decided to design in as standard a 220 V AC power socket in the cage as well as a fixed line for air or water.
Some questions do remain, however. The method of detaching and connecting the platform for travel on road is perhaps less than a 100% success (see box story), and some think that the overhang at the front of the machine is perhaps a little excessive and could be reduced by using a four–section upper boom rather than the three– and two–section booms used on the pre–series models. No doubt Merlo's dealers will have their own say in the coming months.
At Bauma, Merlo had indicated to AI that it also I had several other designs in mind for smaller self–propelled booms in the 10 to 14 m range. However, during the factory visit Merlo said smaller machines remained off the agenda until it had properly launched the current three models.
Although production is not scheduled before Spring next year, Merlo is already preparing for the increased production capacity that will be required at its Cuneo base. It has been investing heavily in the facility to meet the demand for its telehandlers, with around 5000 units produced last year and an anticipated 6000 plus this year.
Important here is a new 24000 m2 cab production facility that has just been completed – with a capacity of 40 cabs/shift – and which has freed up capacity in the main plant for production of handlers and, now, aerial platforms. A new ∈5 million powder coating paint facility has also just opened.
Merlo isn't sure what kind of sales it will reach with the new lifts, although production capacity in 2008 will be around 8500 units, giving it plenty of space for the aerials. The company says that if necessary, it could build a dedicated aerials plant at the existing facility.
So the next seven or eight months will see the company send out the pre–series MPR machines and analyse the feedback. We will then see the final models, which are likely to closely resemble the current machines.
For Amilcare Merlo, who has already overseen decades of innovation in telehandlers, the new machines have been yet another labour of love. "It is a jump for Merlo", he says, "Something new." And if he is still not exactly sure where the machines will fit in the access market, he is certain of one thing; "What we are showing is not a fantasy. It is reality." AI.