Lafarge - OEMs must raise emerging markets standards
By Helen Wright22 November 2013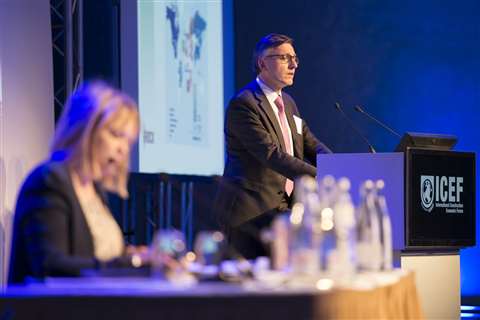 "I'd rather spend more on a machine and have something that is reliable and last longer, then have something that is cheap and cheerful but will last three years."
This was the message from Xavier Therin, vice president of land, mineral resources and mining at Lafarge Aggregates and Concrete to delegates at the inaugural International Construction Economic Form (ICEF).
As Lafarge branches out more and more into emerging markets, Mr Therin said the cement producer expected the same standards in the equipment it used compared to more mature markets.
"What this means for suppliers is that we can't use second rate equipment because it is an emerging market," he said. "One supplier said you can't have telemetry system in emerging markets - that doesn't cut the mustard with us.
"It doesn't matter where we are operating, the productivity and cost savings have to apply everywhere. For Lafarge, health and safety standards are also the same wherever we are - it is a standard."

Service and maintenance

Mr Therin said this expectation also extended to the servicing and maintenance of machines.
"We know it isn't going to happen overnight, but we expect the same standard of service from a supplier in Chicago, Paris or London as someone in Nigeria.
"With the amount of money we plough into a single line cement plant (€250- 300 million), we don't really want production to be jeopardised because a dealer can't maintain our truck fleet. There has to be a greater focus on training of the dealerships in these emerging markets, also establishing dealerships in emerging markets."
On the maintenance side, Mr Therin said a fundamental change was happening in the business.
"The relationship is now composed of the end user, the maintenance provider and the OEM," he said. "Our core business is not maintaining those machines, we can't keep up with training of people to maintain complex equipment. We used to have OEM labour permanently on-site and that doesn't come free, and when we transferred to Babcock to be our maintenance provider, those were removed."

Sweat the assets

Mr Therin said Lafarge was targeting operating cost reductions of €1.5 billion between 2006 and 2015, with a focus on lowering production costs and energy costs.
"We want to sweat the assets," he said. "We are aiming to increase our cement production by 13 to 15 million tons by 2015 with minimal investments. Now, when we buy equipment, that equipment has got to perform - if it doesn't perform, we're not interested.
"We are heading into more and more exotic places and that's where the growth is - we're all chasing that growth, and that means everything else has to follow - the suppliers, the finance, the lot."
ICEF takes place from 20 to 22 November at the Hotel Okura in Amsterdam, the Netherlands.
ICEF 2014 will be held from October 29 to 31 at the Gloucester Hotel in London, UK. More details will be available shortly at www.icef.biz