Lagerwey tests turbine climbing crane
By Alex Dahm31 August 2017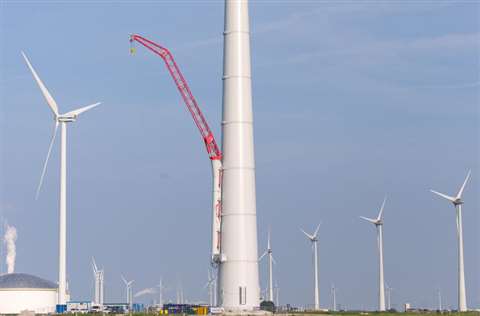 Dutch wind energy company Lagerwey has started field testing its climbing crane for wind turbine erection and maintenance.
Lagerwey claims that the crane, announced last year, is the first climbing crane in the world for the installation of wind turbines. Testing on the ground is complete so now attention has turned to the climbing and hoisting abilities of the crane in practice, Lagerwey said. The testing is being done on the highest wind turbine on land in the Netherlands, at the Eemshaven port in Groningen.
Testing will take several weeks, the company said. In October the climbing crane will construct a second L136 wind turbine.
The crane was announced in mid-2016. It climbs the turbine tower as it assembles it by adding new sections. No large base is needed and it can work in winds of up to 15 metres a second, the manufacturer said. There are no issues associated with the transport to site of difficult to move large tower components and it means that large cranes are no longer needed for the assembly work. In addition, for offshore wind turbines, the height of towers is no longer restricted by the capacity and reach of offshore lifting vessels.
Henk Lagerweij, designer of the crane, said, "Wind turbines are continually getting bigger, heavier and taller. On the one hand, this enables us to create more energy with fewer wind turbines. On the other hand, it also means the price of building tall masts like these is constantly rising. The cranes capable of building tall wind turbines are scarce and expensive. They also take up a great deal of space on the building site or require vegetation to be removed.
"This gave me the idea for the Lagerwey Crane, which 'climbs' together with the mast while constructing it. Lagerwey transports this crane on three regular trailers and erects it within half a day. The crane also only requires a small base. As a result, the costs involved in using our crane are much lower than for traditional cranes. The same crane can also be used for any necessary maintenance."