Land to sea by Huationg Inland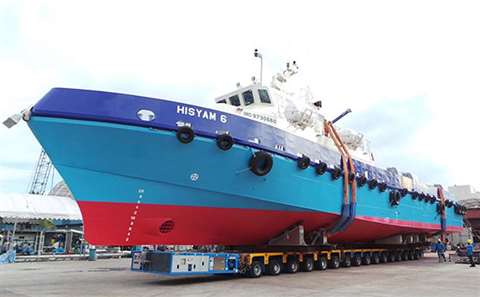 Before the Hisyam 6 transport vessel could start work it had to be moved using specialized transport equipment 800 metres from dry dock to the water's edge in Malaysia.
The 41 m long and 8 m wide vessel was on its way to start work in the Straits of Malacca between the Malaysian peninsular and the Indonesian island of Sumatra. Its job is to shuttle workers between the mainland and offshore oil production facilities.
To move Hisyam 6 the specialized transport company Huationg Inland Transport, Malaysia, used Scheuerle-Kamag K25 H SP transporter in combination with conventional, non-driven K25 H modules. Sixteen axle lines (6+10) of K25 H SP and K25 H were used to carry the 125 tonne vessel.
Jannick Mathieu, area manager for sales at Scheuerle-Nicolas parent company TII Sales, said, "The K25 H SP is ideal for the transport of water vessels of all types as well as being very suitable for moving much heavier loads. Due to the extremely precise axle compensation of hydraulic pendulum axles, the sensitive control via remote control and the unmatched reliability, the vehicle is highly rated and popular at numerous shipyards around the world."
K25 H SP and SPE vehicles are available in three, four or six-axle modules.