Lankhorst Dyneema fibre rope for MacGregor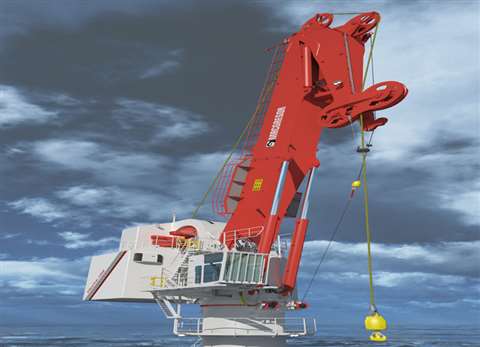 MacGregor's FibreTrac offshore knuckle boom crane will be supplied with a synthetic fibre hoist rope from Lankhorst.
LankoDeep is made from Dyneema DM20 XBO synthetic filament. Its construction is optimised for cyclic bending, the manufacturer said. Certification is to DNV 303 for deepwater deployment.
The MacGregor FibreTrac has a 150 tonne lifting capacity and is designed to comply with the latest DNV GL lifting appliance, fibre and rope manufacturing rules. MacGregor will supply the first system fully certified in compliance with DNVGL-ST-E407 (deployment and recovery system).
For deep water operation the rope will be used on a Parkburn Deep Water Capstan with a storage winch that can carry 4,000 metres of 88 mm diameter rope. The rope's construction consists of 12 stranded braids where each strand is a three-strand rope. Combining this with the DM20's XBO coating, helps reduce the tension required to bed-in the rope. It also reduces internal heat build up and abrasion. LankoDeep can be inspected and is also repairable. A socketed termination from Applied Fiber will be used to attach the rope to the crane hook.
Commenting on the deal, Sergio Leite, Lankhorst Ropes Offshore sales director, said, "LankoDeep has been designed from the outset for deepwater lowering and recovery projects. It offers significant operational and environmental benefits compared with steel wire ropes. Operationally the ropes are easier to handle, and allow engineers to lift and deploy the maximum load without the need to factor in the self-weight of steel wire."
Existing cranes can be retrofitted with the new rope as can standalone winch systems with either hydraulic or electric drives.