Laos dam failure
By Thomas Allen26 July 2018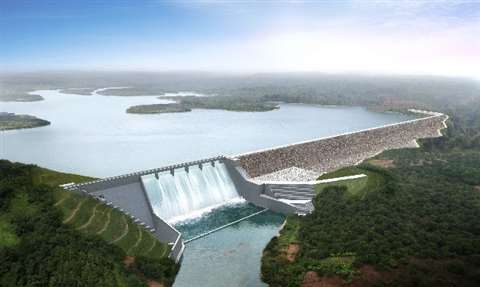 A dam in Laos has collapsed during construction as a result of heavy rainfall, causing several villages downstream to flood.
Saddle Dam D, as it is known, is located in the south-eastern Attapeu province of Laos and is part of the Xe-Pian Xe-Namnoy hydroelectric power project.
The project is being developed and built by Xe-Pian Xe-Namnoy Power, which is a joint venture comprising Korea-based SK Engineering & Construction, which holds a 26% stake; Korea Western Power, which has a 25% stake; Lao Holding State Enterprise, with a 24% stake; and Thailand-based Ratchaburi Electricity Generating Holding, with a 25% stake.
The overall project is about 90% complete and Ratchaburi Electricity Generating Holding has said that the incident would not affect the commencement of electricity generation, which is scheduled for early 2019.
Saddle Dam D – measuring 8m wide, 770m long and 16m high – is one of five subsidiary dams accompanying the project's two main dams.
Fractures in the dam were discovered after continuous rainstorms caused a high volume of water to flow into the project's reservoir. Water was then discharged from one of the main dams – the Xe-Namnoy dam – to alleviate pressure on Saddle Dam D. A repair team sent out to the damaged dam was hampered by the heavy rainfall.
Further damage was later confirmed at the dam before it finally failed.
Laos' hydroelectric capacity has been developing rapidly in recent times, with the government aiming for the country to become the 'battery of South East Asia'.
Sitting on the Mekong River and its tributaries, Laos has a theoretical hydropower potential of 26.5GW, according to the International Hydropower Association, of which 18GW are technically exploitable.
Since the Laotian government opened the country's power sector to foreign investment in 1993, installed hydropower capacity in the region has grown from 206MW to more than 3.5GW, and that growth has been driven by demand for electricity exports to neighbouring Thailand and Vietnam.
Laos currently exports about two-thirds of its hydropower, with electricity accounting for about 30% of all Laotian exports.