Larger Huisman printed hook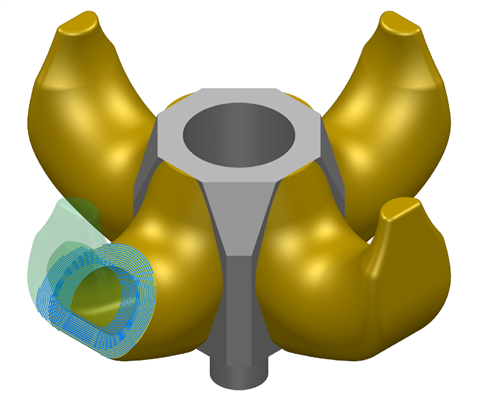 A large 3D printed crane hook claimed to be the heaviest in the world is in development by a consortium led by Huisman and Ramlab.
Dimensions of the hook will be more than 1 by 1 metre and it will weigh close to 1,000 kg. Safe working load will be 325 tonnes. It will be a four-hook design for offshore crane applications made using the wire and arc additive manufacturing (WAAM) 3D printing technique (imagine it as being built up from weld).
A major benefit of the design and of the manufacturing process is that the hook will be hollow. It will consume less material, weigh less and have a shorter production lead time. Huisman tested and 80 tonne capacity 3D printed hook early in 2018.
Classification societies DNV GL, Bureau Veritas and ABS are part of the project and will all certify the hook. It will also help in adopting rules for 3D printed products for maritime and offshore applications. Voestalpine Böhler Welding is also part of the consortium and will provide feed stock and lend its materials expertise. Additive manufacturing software was provided by Autodesk.