Largest dual-certified Cat engine
By Thomas Allen25 November 2019
Caterpillar has introduced a new engine to help companies lower emissions in high-power industrial applications.
The new 78 litre V16 Cat 3516E industrial engine uses a dual SCR-only aftertreatment to meet EU Stage V, US EPA Tier 4 Final and California Air Regulations Board (CARB) requirements. It is the largest of Caterpillar's dual-certified engines.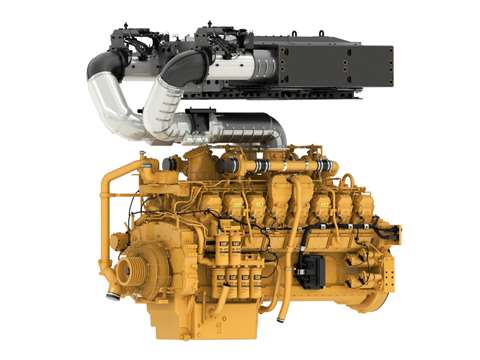 Maintenance is eased by the fact that the aftertreatment system does not require diesel exhaust fluid, and the total cost of ownership is said to be 1.3% lower than the engine's predecessor, the 3516C. This is due to the fact that the engine has been designed to improve overall fluid consumption.
Jason Kern, Marketing Director for Caterpillar's Industrial Power Systems Division, said, "We designed the C3516E to meet the needs of customers who require high horsepower engines in North America and the EU.
"These customers work with some of the most demanding applications and need clean, continuous power to drive their business as emissions regulations become more stringent."
The 3516E can produce 2,100hp (1,566kW) at 1,650rpm and 11,220Nm of torque at 1,200rpm.
The engine is capable of being operated at maximum power and speed without interruption or load cycling due to its robust design and the use of heavy-duty components.
Based on the core 3516 series engine and backed by more than 725 million hours of in-field service, the 3516E is designed to be reliable in a range of harsh conditions and rough jobsites. This makes it suitable for applications such as shredders, chippers, grinders, and bore and drill rigs.
The 3516E is backed by the Cat Dealer Network, which has 168 dealers, more than 2,150 locations and 157,000 dealer employees.
Brian Tomsovic, Global Dealer Operations Manager, said, "With the C3516E, our dealers will be able to provide an engine solution that will fit the needs of many OEMs."