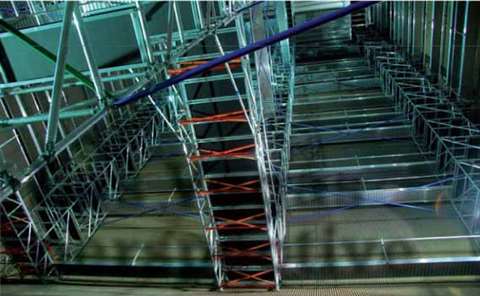 It is clear that globalisation, regulation and safety, and market conditions are major influences on – and from – the scaffolding industry in North America. Let's start with globalisation: the increasing influence of companies outside their domestic bases.
John Miller, head of the SIA (Scaffold Industry Association) in the US, tells SI that it is "being forced to become more international because of foreign firms. We get 20 to 30 calls per week from foreign manufacturers trying to gain access to the North American market."
The SIA seems to accept foreign companies without reservation. "These companies are coming into the US with or without the SIA," says Mr Miller. "What membership does is introduce them to our standards. We can educate them to help them adopt our industry's practices."
It's not only foreign products, however, but also foreign workers that are entering the US. The construction industry, including scaffolding, has attracted large numbers of Hispanic-speaking workers. That group has been the focus of much of the SIA's training program, including delivering training in Spanish. "We need to get the training down to the end-user. That's SIA's push right now."
Mr Miller is candid about the effectiveness of those efforts. He says, "I wouldn't call them successful to-date because of dialects and illiteracy. These effects are hard to overcome. Our outreach program is an evolving process.
"If we are going to be the voice of the industry, our mission is to train, educate, and inform –anyone in scaffolding. One accident, by anybody, is a blemish against the entire industry."
The SIA's international influence is bi-directional, however. For example, Mr Miller says, "The China Scaffolding and Formwork Association has adopted the business model of the SIA, but there is no formal association between the two. Their representatives came to our last four events, and they took back lots of material describing our activities."
Stan Smith, chairman of the SIA's international committee and its president-elect, made a trip to Shanghai to mentor their leaders. "Th ey are copying our business model," says Mr. Miller.
Mr Miller says the SIA would like to participate in other international scaffolding activities. It has explored possibly expanding into different parts of the world, and it was recently approached by an South American association. "We are exploring it," he says, "but that part of the world is a whole different ball game: very unstructured."
"Would like to partner with scaffolding associations across the water, to look at what they are doing, to help others look and learn from us."
The SIA is also helping domestic regulators learn, Mr Miller toldSI of one recent application by OSHA of an interior elevator code to a mastclimbing application. "I spent 20 minutes drafting a letter to OSHA to get them to rescind a two-and-a-half day shut down of a job site of one of our members."
Mr Miller said the SIA is working with OSHA to modify regulations. "OSHA doesn't know how to classify scaffolding equipment. We get calls from compliance off cers to help them interpret and use the regulations."
Market conditions
"Industrial firms are quite busy," says the SIA head when asked about the state of the industry. "The downturn in the economy hasn't truly grasped the industry yet, but there is lull coming. My company [Touchstone Scaffolding Services in New Jersey, of which he is president] is blowing through our backlog. People are waiting to see...how the economy turns."
One market change Mr Miller sees is that "...delivering scaffolding services is not just about price anymore." In the District of Columbia, for example, bid opportunities require submission of a technical proposal as well as the business proposal. The technical proposal describes the technical competence of who will deliver the service and the plan to do so. The purchasing authority makes its selection based upon both proposals.
Chuck Hutchinson, vice president of sales for Bil-Jax in Archbold, Ohio, told SI, "Parts of US market are very good; such as commercial, power plant, industrial, petro-chemical. We currently have the largest scaffolding backlog in a long time, maybe ever. We don't know how long it will last, and at least at this point industrial demand is offsetting the decline in residential."
The company makes frame, system, and utility scaffold, as well as event seating and a growing line of powered lift products. Current sales are 75% scaffolding, but Mr Hutchinson expects rising lift sales to make that ratio 50/50 by 2010.
Bil-Jax's scaffolding products include some "basics from China, from our factory there," and from "investment in other sources in China. We have imported castors for 17, 18 years. It took us a long time to get it right, but we have it right now."
"We are not shutting down our manufacturing in the US but will continue to make products here because of the higher quality we can more easily achieve. There are certain things you can't take for granted in China, but we do in the States."
Expanding distribution is one plank in the sixty-year old company's plans. It wants to have signed up 20 new dealers in Europe alone by the end of 2008, and it will leverage a larger distribution network into scaffolding sales increases, too. "When those additional dealers are in place, we will also use them to aggressively promote and sell scaffolding."
Helping Bil-Jax increase exports is the relatively weak US dollar. "With the current exchange rates, we should have significant opportunity to pursue our goals," said Mr Hutchinson. He thinks the current decline in value of the dollar "has essentially given US manufacturers a 50% discount, and "We don't expect that to change in any near-term."
Bil-Jax is not soliciting rental companies for sales, but is focused on dealers who are, in turned, focused on sales." He says Bil-Jax is building "...distribution viewed by the market place as neutral." The company wants dealers who "...will stock parts, build technical competency, and have an ability to call on contractors."
Mr Hutchinson said Bil-Jax wants dealers that are purely sales companies "...to eliminate some of the issues if it is perceived as a rental company [or one that could become a rental]. If they're seen as a competitor to our customers, they're a problem."
However, distributing through rental companies is seen as strength by Instant Upright in Ireland, which sends 80% of its sales through that channel. "The rental industry is running miles ahead [of other channels]," says Arne Dirckinck-Holmfield, sales and marketing director.
He said, "In the UK, 80% of the market is rental. In the States, it is not that mature, approximately 30%. Therefore, there is still huge growth potential here."
Key to Instant UpRight, whose unique selling proposition is painted towers, which allow rental companies to brand their fleet, is "...setting up the 'right' dealership. Ideally, it is one that already deals in the market. Our ultimate dealer is a construction equipment sales company," says Mr Dirckinck-Holmfield.
"One right way is to use a rental company. It could be a dealer; it could be a renter. What is important is that it is already dealing with construction and rental companies."
Instant is currently looking for dealers in South America, Bulgaria, and the Ukraine, as well as in the "mature" markets of France and Germany. It would like to take market share from suppliers already established there, and Mr Dirckinck-Holmfield thinks the users in those countries are looking for tower systems, a product strength of Instant, he says.
So, the US scaffolding industry, driven by a variety of domestic and foreign influences, seems to be changing. The effects of these changes, globally, remains to be seen.